CAT (Common Admission Test) is one of the most competitive entrance examinations in India for admission to the most prestigious management institutes such as the Indian Institute of Management(IIMs) and also 1000+ other top b-schools in India. For beginners, cracking CAT exam is like a challenging task, but with proper planning and strategy, strategy one can ace the exam. In this article, we will provide you with some helpful tips on how to start CAT preparation for beginners with an effective preparation strategy made by the experts.
Firstly let us look at the examination pattern in detail before looking into the tips. As a beginner, you must be aware of the CAT 2023 exam pattern.
CAT 2023 Exam Pattern
CAT is a computer-based test (CBT) that consists of three sections, namely Verbal Ability and Reading Comprehension(VARC), Data Interpretation and Logical Reasoning (DILR) and Quantitative Ability (QA). Have a look at the given below table to know more details of the CAT 2023 Exam pattern.
| SECTION | DURATION | Number of questions (Expected) |
| --- | --- | --- |
| Verbal Ability | 40 minutes | 24 |
| Data Interpretation and Logical Reasoning | 40 minutes | 20 |
| Quantitative Ability | 40 minutes | 22 |
| Total | 120 minutes | 66 |
Each correct answer is awarded 3 marks, and each wrong answer carries a penalty of -1 mark.
CAT Preparation Tips For Beginners
Understand The Exam Pattern And Syllabus
It is highly recommended to understand the examination pattern and the syllabus that will help you to plan your preparation better. There is no exactly defined CAT syllabus. But, by making the analysis of the CAT previous years question papers, we have made a detailed CAT 2023 syllabus PDF. Aspirants are advised to go through the syllabus PDF and know about the topics that are involved in each section.
Built a Strong Foundation Of Basics
The immediate task is to go through the basics, fundamentals and formulas from all the sections. Many aspirants make the common mistake of neglecting the basics and directly moving on to solve the problems. Without knowing the basics and fundamentals, you cannot solve the questions.
Quantitative ability is one of the most important sections in CAT and also a scoring section. This section plays a crucial role in getting the 99+ percentile in the CAT exam. To ace this section, a strong grasp of the basics and formulas is required. One can refer to this CAT Quant Formula PDF, which consists of all the important formulas, fundamentals and also shortcuts to solve the tricky questions in the Quantitative Ability section. Or else we are also providing you with a handbook of CAT Quant formulas. You purchase this booklet online for just Rs.99/-. The link to purchase the CAT Quant Formula book is given below.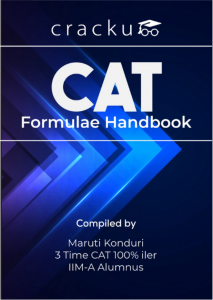 Know Your Strengths And Weaknesses – Take Free CAT Mock Test
The next step is to identify your strengths and weaknesses. You can take a mock test to get an idea of the areas where you excel and the topics that need more attention. One can take this Free CAT Mock Test by Cracku, which is almost closest to the actual CAT examination. In addition to the mock test, we are also providing detailed video solutions for all the questions in the mock test. Take this mock test to understand your strengths and weaknesses, which are very useful in making a preparation plan for CAT.
Set Realistic Goals – Daily Targets
Once you know your strengths and weaknesses, set realistic goals for yourself. One can start by setting short-term goals like completing a chapter in a specified time frame or solving a certain number of questions in a day. You can use these free CAT daily targets by Cracku, which helps you in setting short-term goals for the day. Achieving these goals daily will boost your confidence and motivate you to work harder.
Practice Regularly – Improve Speed and Accuracy
Practice is the key to success in acing the CAT exam. After being well-versed with every topic in the CAT syllabus, practice as many questions as possible, from various sources like mock tests, previous year question papers or study materials. Regular practice will help improve your speed and accuracy, which are very essential for a CAT aspirant.
Take Mock Tests And Analyze Thoroughly
As a beginner, taking mock tests is very essential. Mock tests play a crucial role in CAT preparation. Just taking more mock tests is not enough. One should have to analyze the mock thoroughly and track your performance from mock to mock. Many aspirants make the common mistake of neglecting the mock analysis. It is essential to assess yourself in which area you are excelling and underperforming. Analyze your speed of solving the questions and try to improve for the next mock test.
Cracku provides you with a Free CAT mock test with detailed video solutions and also with a free mock analysis. Click on the link below to take a free CAT mock test now.
Enroll to CAT 2023 Online Course
Focus On Time Management
Time management is crucial in the CAT exam. As per the CAT examination pattern, you need to solve 66 questions in 120 Minutes, which means you have less than 2 minutes to solve each question. So, one must have to practice as many problems as possible to improve speed as well as accuracy. Maintain your stopwatch while solving a question and analyze your time duration of solving the questions. Try to improve your speed of solving problems.
Stay Motivated – Maintain A Peer Group
Preparing for the CAT exam is a challenging task if you get demotivated or distracted from your preparation. It is essential to stay motivated. One of the best practices to stay motivated in CAT preparation is to maintain a peer group with positive and supportive people who will encourage you. Take enough breaks, indulge in activities you enjoy, and do not let the pressure get to you.
CAT Preparation Schedule For Beginners
A well-structured preparation schedule is very crucial for the aspirants who are preparing for the CAT examination. As a beginner, it is a challenging task to make a schedule for CAT preparation if you are a beginner searching for a CAT preparation schedule. We provide you with an effective CAT 2023 preparation plan which is flexible for any type of aspirant, whether you are a beginner, working professional, CAT repeater, or whatever. You can also download this CAT 2023 preparation schedule PDF. The link to download the PDF is given below. Also have a look at the sample image from the CAT 2023 preparation schedule PDF below.

Downlaod CAT 2023 Preparation Schedule
Join our Telegram group of MBA aspirants for quick and regular exam updates.