Solution
The bare minimum requirement for the single grandfather and grandmother are as follows: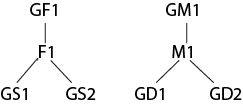 GF implies Grandfather, GM Grandmother, F Father, M Mother, GS Grandson and GD Granddaughter. The family trees above account for 2 fathers, 2 mothers, 1 GF and 1 GM. Hence, we need 1 more GF, 1 GM, 2 fathers and 2 mothers and two married couples.
The bare minimum tree that would provide this structure is as follows:

Using these three structures, we have fit all of our requirements. Thus, if GF1, GF2 and GM1 are siblings with the following family trees present, we would have the required number of people in attendance. Hence, the minimum is 12 people.