For many MBA aspirants, pursuing an MBA in top-tier business schools such as the IIMs is a long-term aspiration. However, the cost of education in IIM colleges is notably higher than in other MBA institutions in India, with tuition fees ranging from 20 Lakhs to 24 Lakhs. This makes it difficult for middle-class individuals to afford the cost of education without taking an education loan. In this article, we will delve into the details of how to get an education loan for IIM colleges and the interest rates offered by various banks.
Is it worth taking a loan for IIM?
Opting for an education loan to pursue an MBA in IIM b-schools in India is a worthwhile decision. With the rising tuition fees of top-tier institutions such as IIM Ahmedabad, IIM Bangalore, and IIM Calcutta, among others, taking an education loan for IIM is the most viable option. In addition to the tuition fee, there are various other expenses, including student accommodation, transportation, and miscellaneous expenses, which can be financially overwhelming for individuals from middle-class or lower-middle-class backgrounds.
A vast majority of banks offer student loans to individuals with a strong academic background. Most banks are prepared to lend up to Rs.30 lakhs to support a student's education. However, if you're aspiring to attend an IIM, this amount may not cover a significant portion of your expenses. Consequently, numerous banks offer distinct credit options to students who qualify for admission to IIMs.
The interest rate for a student loan offered to an IIM applicant varies among banks and financial institutions. Nonetheless, you can secure an education loan with an attractive interest rate ranging from 8.5% to 10%. Consequently, you can get a loan of up to Rs. 30 lakhs. Typically, the loan amount is based on the college's tuition fees, but certain banks may also offer extra funds to cover living expenses and other educational-related expenses. Additionally, the loan moratorium period usually extends from 12 to 18 months following the course's completion.
Education loan for MBA without collateral security
While some banks require collateral for loans exceeding Rs. 10 lakhs, other lenders base their collateral requirements on your potential income. However, certain banks like SBI demand collateral and a co-borrower for loans exceeding 7.5 lakhs, depending on the type of MBA college the student has secured admission to. In regards to margin money, most banks do not impose any fees, but a few may demand that you pay 5% (above 4 lakhs) of the loan amount from your personal funds.
IIMs are renowned for their excellent management programs, but their fees are notably high. In the last two years, seven IIMs have raised their tuition fees by 5% to 29.6%. The typical fee structure at an IIM ranges between 12 and 25 lakhs, making it challenging for students to fund such high tuition rates without taking an education loan.
Join Cracku MBA Preparation Telegram Channel
Features for availing of a student loan for IIM
IIM students can obtain education loans of up to Rs.20 lakhs to Rs.30 lakhs, with some students having little to no margin money.
The repayment period can be up to 15 years. While IIMs do not require collateral for loans, parents are typically asked to serve as guarantors/co-borrowers.
Students can also avail of income tax benefits on the interest paid on educational loans under Section 80E of the Income Tax Act. This is an additional benefit to the Rs.150,000 deduction allowed under Section 80C.
Moreover, banks such as SBI and Bank of Baroda offer a 0.5% rate reduction on loans to female students.
If you're planning to study at a prestigious university such as IIM, you can avail of education loans with lower interest rates compared to Type B or C universities. In addition to the lower interest rates, many banks offer loan programs without any margin requirement, allowing you to cover expenses such as accommodation, travel, books, and equipment fees.
IIM Education Loan Interest Rate For Various Banks In India
Bank/Loan

Max Amount

Rate of Interest

Security

Margin

Moratorium Period

Repayment Period

IDBI Bank Premier Education Loan

Rs.20 lakhs

Base rate = 9.65%

Rs.4 lakhs to Rs.10 lakhs – Third-party guarantor

Above Rs.10 lakhs – Tangible collateral

5% above Rs.4 lakhs

Course duration + 1year/6 months of getting a job, whichever earlier

Below Rs.7.5 lakhs – 10 years

Above Rs. 7.5 lakhs – 15 years

OBC's Customized Education Loan Scheme IIMs

Rs.15 lakhs

Up to 10.50%

Parents/Guardians as co-borrower

Nil

Course period + Grace period based on predefined conditions

Upto Rs.7.50 lakhs – 10 years

Above Rs.7.50 lakhs – 15 years

SBI's Scholar Loan

Rs.40 lakhss

Up to 10.20%

Parents as co-borrower

Nil

Course period + 1 year

15 years

CBI's Special Education Loan Scheme to IIM Students (Cent Vidyarthi for IIM Students)

Rs.30 lakhs

MCLR = 12 Month

Assignment of future income

Nil

Course period + 1 year

15 years

BOI's Exclusive Education Loan Scheme for Students of Premier Educational Institutions

Rs.20 lakhs Rs. 30 lakhs with 100% tangible collateral

MCLR = 9.25%

Assignment of future income + parents as co-borrower

Nil

Course period + 1 year

15 years

Union Bank's Special Education Loan Scheme

Rs.30 lakhs

8.10%

Parents as co-borrower

Nil

Course period + 1 year

15 years

Axis Bank's Education Loan

Rs.20 lakhs

8.85%

Collateral or guarantor depending on a case-to-case basis

5% above Rs.4 lakhs

Course period + 1 year

15 years

UCO Bank's Super Premier Educational Loan Scheme

Rs.30 lakhs

8.40%

Nil

Nil

Course period + 1 year

15 years
Premier college loans actually have lower interest rates than Type B or C universities. Almost all banks offer zero-margin prime loans, making not just tuition but also housing and other requirements cheap.
Note: The values given in teh above table may vary. Candidates are advised to check out the respective back websites for more details about the education loan.
SBI education loan for IIM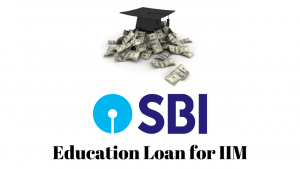 Compared to other banks, the State Bank of India is willing to lend up to 40 Lakhs for education loan for MBA students who got admission to type-A colleges like IIMs. Below are some of the salient features that are provided in the student education loan for IIM in SBI.
100% Financing that includes Examination/ Library/ Laboratory fees, Purchase of Books/ Equipment/ Instruments, Travel expenses/expenses on the exchange programme, Purchase of computer/ laptop and any other expenses related to education.
NO Processing Fee
Repayment period of upto 15 years after Course Period + 12 months.
SBI Education Loan Eligibility
Courses that are approved by UGC/AICTE/IMC/Government, including regular technical and professional degree/diploma programs offered by colleges/universities, as well as regular degree/diploma programs offered by autonomous institutions such as IIT and IIM, are eligible for graduation and post-graduation.
Teacher training or nursing courses that have been sanctioned by either the Central or State Government are eligible.
Regular degree/diploma programs, such as aeronautical, pilot training, shipping, etc., have been sanctioned by the Director General of Civil Aviation/Shipping or the relevant regulatory authority.

The following courses are considered job-oriented and professional/technical in nature: graduation and post-graduation degrees and diploma programs such as MCA, MBA, MS, etc., that are offered by esteemed universities, as well as courses conducted by institutions like the Chartered Institute of Management Accountants (CIMA) in London and the Certified Public Accountant (CPA) in the USA.
Loan Amount & Security
Category
Maximum Loan Limit
No Security, only Parent/ Guardian as co-borrower
With tangible collateral of full value and Parent/ Guardian as co-borrower
List AA
Rs. 50 lacs
No upper limit
List A
Rs. 40 lacs
No upper limit
List B
Rs. 30 lacs
No upper limit
List C
Rs. 7.5 lacs
Rs. 30 lacs
SBI Collateral-free Education Loan
State Bank of India provides collateral-free education loans for students who got admission to top B-schools. For the type-C colleges below 7.5 Lakhs, there is no need to submit the collateral for the education loan and the maximum loan amount for the C category colleges upto 30 Lakhs. Collateral co-borrower are required for more than 20 Lakhs of education loan for the type A and B colleges, and for the colleges of type AA there is no need to submit collateral below 40 Lakhs of education loan, and also it is the maximum amount of loan that is lending by the SBI for education loan.
5 Things To Consider Before Taking An Education Loan
It is crucial to compare the interest rates and terms and conditions of various banks that offer education loans to ensure that you get the best deal.
It is also important to confirm whether the bank charges simple or compound interest, with simple interest being preferable.
Moratorium Period and Repayment Period: These two parameters are to be considered while taking an education loan. 
Margin amount in education loan: Most of the banks are giving zero margins for the education loan. And it is also negotiable.
For students seeking an education loan for IIM, it is recommended to use the loan calculator available on the official websites of banks like SBI, Union Bank of India, and Axis Bank to understand the EMI details. Therefore, students or their parents are advised to use these loan calculators to make informed decisions.
DO JOIN OUR TELEGRAM GROUP FOR MBA ASPIRANTS FOR REGULAR EXAMS AND MBA COLLEGE UPDATES. WE WILL UPDATE YOU AS SOON AS THE FORMS ARE RELEASED.