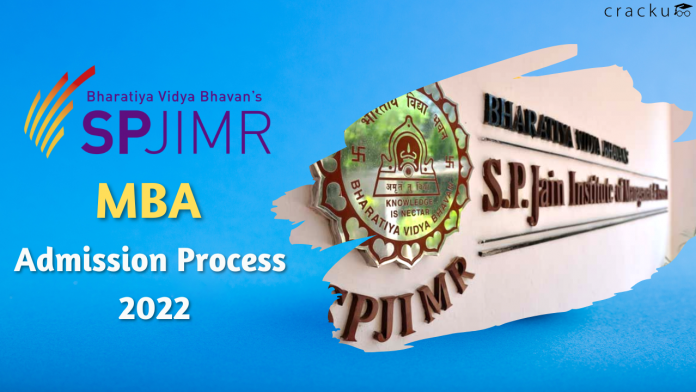 SPJIMR Admission Process For MBA 2022: Selection Process, Eligibility Criteria, Requirements & Fees structure
SP Jain Institute of Management and Research, known as SPJIMR, is a private non-profit post-graduate management school based in Mumbai, India. SPJIMR has retained its top level 5 rank in the Positive Impact Rating of 2022. SPJIMR is featured among the top 50 business schools in the 2021 Financial Times Masters in Management (MiM) global rankings for a second consecutive year. SPJIMR at rank 39 for the Institute's flagship two-year full-time Post-Graduate Diploma in Management (PGDM). In this article, we will discuss the admission process for MBA (PGDM) programme at SPJIMR.
SP Jain MBA Entrance Exam
The applicants must take the MBA entrance exam before applying for admission to SPJIMR. During the admission process at SP Jain, they will accept both the CAT and GMAT scores. The applicants must achieve a valid score in any of the examinations. Let us have a look at the CAT and GMAT cut off for MBA (PGDM) admissions.
SP Jain CAT and GMAT cut off for MBA
The following table represents the CAT and GMAT sectional cut-offs based on previous years. The applicants must reach the minimum cut-off in any one of the entrance examinations.
Entrance Test
Sectional
Overall
CAT
Verbal Ability and Reading Comprehension
Data Interpretation and Logical Reasoning
Quantitative Ability
–
CAT percentile
75
75
75
85
GMAT
Verbal
Quantitative
–
–
GMAT Percentile
75
75
–
85
Download CAT Previous Papers PDF
SP Jain MBA Admission Eligibility and Requirements
The applicants must reach the minimum cut-off in any one of the entrance examinations (CAT or GMAT).
Applicant must possess a consistent academic background. Performance in 10th grade, 12th grade and every year of graduation are considered in the selection process.
Applicants must hold a Bachelor's Degree with at least 50% marks or equivalent CGPA awarded by any university incorporated by an Act of the central or state legislature in India or other educational institutions established by an Act of Parliament or declared to be deemed as a university under Section 3 of the UGC Act, 1956, or possess an equivalent qualification recognized by the Ministry of HRD, Government of India.
Work experience is not mandatory for this programme, graduates with no work experience and those with less than five years of work experience can apply.
Relevant work experience after graduation will be considered. Internship or training project work which was a part of the curriculum will not be considered as work experience, or any periods of apprenticeship or any unpaid work undertaken in any organisation or institution will also not be considered as work experience.
Proof of work experience such as an offer letter, salary slips and the experience letter will have to be provided.
SP Jain MBA (PGDM) Admission Process
Post Graduate Diploma in Management (PGDM) is a two-year, full-time residential programme considered to be equivalent to an MBA at SPJIMR. The admission process detailed below for the PGDM 2022 will be conducted by being cognizant of the COVID-19 epidemic. The process is contingent upon the directives issued by the Central, State government, BMC and AICTE.
The section process for MBA is made based on considering the following factors:
Overall profile
Academic background
Work experience
Entrance scores
Versatility and achievements
The profiles of the candidates are scored and the candidates are sorted into two groups: Profile-based (phase-1) and Profile cum Score-based (phase-2).
The selection process for Profile-based (phase-1):
Applicants shortlisted in the first phase are called for an early interview. The shortlist is based on their profile considering the following factors:
Consistency of academic record
Relevance of work experience for the specialisation chosen
Versatility and achievements
Candidates must meet the minimum eligibility cut-off of any one of the entrance exams in the case of a profile-based selection process i.e in phase 1.
The selection process for Profile cum score based (phase-2):
Applicants in this phase are called for interviews on basis of their profile as given above, along with their performance in the entrance tests.
Final selection
The selection list will be made based on a composite score, which considers the applicant's profile, academic record, entrance test scores (CAT/ GMAT), the relevance of work experience and performance in the two rounds of group interviews.
SP Jain MBA Fees 2022
When it comes to the fee structure for MBA (PGDM) at SPJIMR is around 19 Lakhs for the full-time programme and this fee includes the tuition fee, basic hostel or accommodation and Global Fast Track. It does not include the cost of travel.
This is all about the admission criteria for MBA (PGDM) at SPJIMR in detail. One can also check out the details of other top MBA colleges in India with their admission process, placements, cut-offs, academic programmes, etc on our official website.
Candidates can Join our Telegram group of MBA aspirants for quick and regular exam updates.