Instructions
on the basis of the information given in the following case.
Dev Anand, CEO of a construction company, recently escaped a potentially fatal accident. Dev had failed to notice a red light while driving his car and attending to his phone calls. His well-wishers advised him to get
a suitable replacement for the previous driver Ram Singh, who had resigned three months back. Ram Singh was not just a driver, but also a trusted lieutenant for Dev Anand for the last five years. Ram
used to interact with other drivers and gathered critical information that helped Dev in successfully bidding for different contracts. His inputs also helped Dev to identify some dishonest employees, and to
retain crucial employees who were considering attractive offers from his competitors. Some of the senior employees did not like the informal influence of Ram and made it difficult for him to continue in the
firm. Dev provided him an alternative job with one of his relatives. During the last three months Dev has considered different candidates for the post. The backgrounds of the candidates are given in the table below.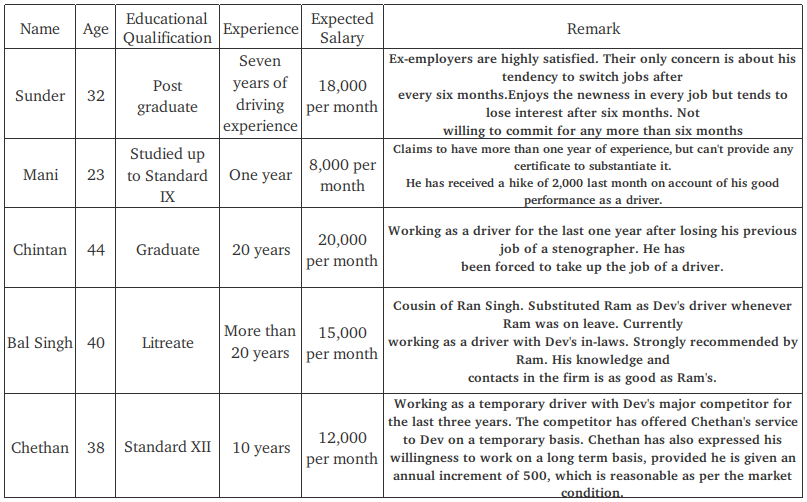 Dev is primarily looking for a stable and trustworthy driver, who can be a suitable replacement for Ram. His family members do not want Dev to appoint a young driver, as most of them are inexperienced. Dev's driver is an employee of the firm and hence the appointment has to be routed through the HR manager of the firm. The HR manager prefers to maintain parity among all employees of the firm. He also needs to ensure that the selection of a new driver does not lead to discontent among the senior employees of the firm.