Solution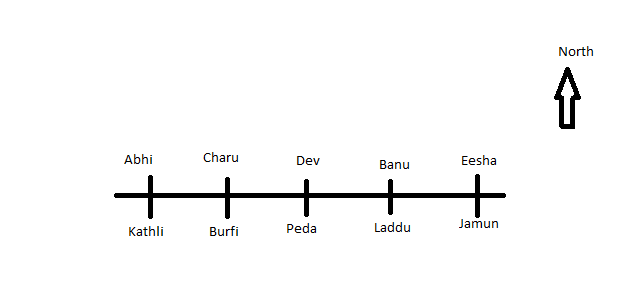 From the Given information, We can initially say that, Banu & Charu occupy 2nd and 4th positions. Also, Given that Dev doesn't sit on any of the ends. It clearly leads to a conclusion that Dev sits in the middle and he likes peda.
From 4th Point, "The one who likes Burfi sits third to the left of the one who likes Jamun.", We can say that the person who likes Jamun sits at the right side end as he has someone who likes burfi sitting left to him/her. We can also conclude that it would be Eesha who likes Jamun as it's given that Abi doesn't like Jamun.
Given that one who likes Burfi sits third to left of one who likes Jamun, therefore, Person in 2nd position likes Burfi and it would be Charu as given that Banu likes Laddu and Banu would be in 4th Position.
So charu likes burfi