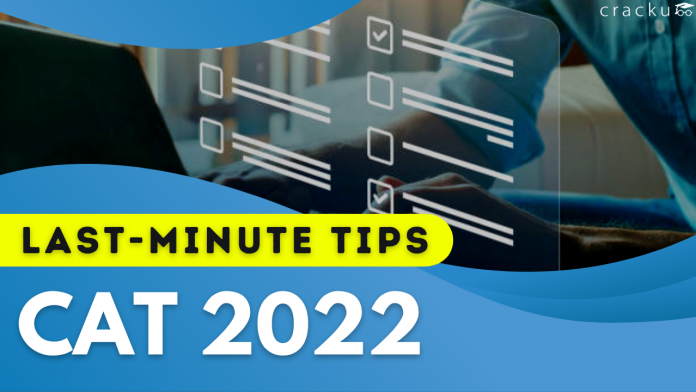 Last-Minute Tips For CAT 2022 Exam: Check Out Some Tips, Tricks & Shortcuts
The CAT 2022 Exam is just a few days away. Many aspirants will be quite tense during these last few days. It is essential to be aware of some tips, tricks & shortcuts to improve their scores and give the best performance during the exam. In this article, we will discuss the important last-minute tips to follow that can help you ace the exam. These last-minute tips for CAT can help you boost your scores. Also, we will provide you with exam tricks and shortcuts.
Take Free CAT online mock tests to improve your test-taking skills. Also, solve the Previous year's papers of CAT to acquaint yourself with the level of questions that appear in the exam. As there is limited time to prepare for the CAT, the CAT LIVE Booster Classes can help you to boost your percentile and achieve your desired score.
Last-minute Tips For CAT Exam
Review the basics
Reviewing the basics is an important task for the candidates in these last few days. Going through the basics will help you recollect the formulas and concepts pushed to the faintest corners of your memory.
Having key concepts at your fingertips in the examination hall is important. You can take a complete day, if needed, to Revise all the Quant formulas you have learned so far.
Also, ensure that you do not remain clueless about some topics. Try to have at least some basic idea about all the topics.
Revise the conventional set types in LRDI. Make sure that you are comfortable dealing with sets based on common topics such as Arrangements, Venn Diagrams, Games & Tournaments, Charts and Tables, etc. Quickly revise the approaches to solve such sets.
Read for an hour or two every day till the exam day to stay in touch with reading. This will help you to attempt the VARC section with confidence.
Learn from the mistakes of your previous Mock tests
Start by analysing the mock tests you have taken so far. Make a note of questions you attempted incorrectly. Also, note questions that took too much time while solving the mock tests. So, rather than taking too many mocks in the last few days, it is better to revise the previous mocks. Also, taking mocks in the last week before the exam is not recommended.
Make a note of the mistakes that you often repeat. If the errors are due to some fundamental gaps, revise the basics. This will ensure that you do not repeat the same mistakes in the actual exam.
Revise them in these last few days. Look for alternative methods to solve questions that consume a lot of time.
Finalise your exam strategy
In the last few mocks, you will attempt to implement the strategy you have devised so far. Make sure that your strategy works well for you under various circumstances.
Also, make sure that your strategy is flexible and open to amendments based on the requirements of D-day.
Take a break on the day before the exam. Also, complete the revision 2-3 days before the exam. Do not get overly stressed on the day before the exam. Do not cut your sleeping time. Make sure that you can perform to the best of your abilities on D-day.
CAT Exam Tricks And Shortcuts
Take the exam without worrying too much. Do not give in to pressure. There is a View full question paper option in each exam section. You can use this to check the overall paper of the section. Be quick and calm while solving questions.
Also, avoid the tough questions. Make sure to leave the questions that are meant to be left. Spend some time selecting the right sets in the LRDI section. Especially if there's a 6-question LRDI set in the exam, don't be tempted to solve it right away. Read the set carefully and solve it only if you're familiar with it.
Dont spend too much time on any question (Don't let your ego come in the way while solving a question, especially from your favourite topic).
If any section is difficult, don't panic, there will always be some easy questions. You just need to find and answer them. So, try to solve easy questions first (for DILR & Quant sections especially).
If you can follow these last-minute tips for CAT and take the exam with a cool mind, you will be able to perform well in the exam.
Join our Telegram group of MBA aspirants for quick and regular exam updates