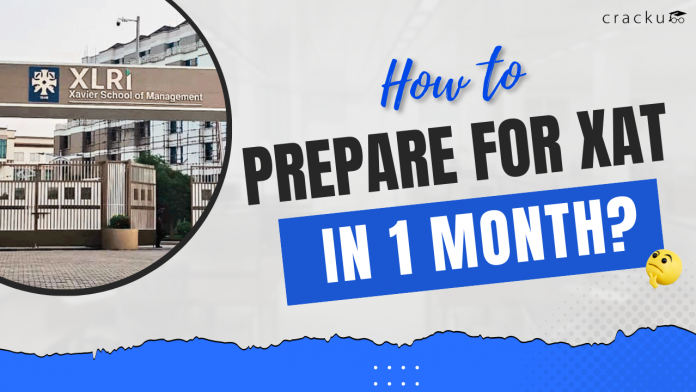 How To Prepare For XAT 2023 In 1 Month (Section-wise Preparation Tips)
As we know that after IIM colleges, one of the most prestigious colleges in India is Xavier School of Management (XLRI), Jamshedpur, which will accept only the XAT exam for its MBA admission process. In comparison, the XAT exam difficulty level is slightly tougher than the CAT exam. Aspirants who have attempted the CAT exam can crack the XAT exam with a perfect preparation plan. The XAT 2023 is going to be held on 8th January 2023, there is around 1 month left before the XAT exam. The question is, "How to prepare for xat in 1 month?". In this article, we will discuss how to prepare for XAT 2023 exam in 30 days with some effective preparation tips.
Enroll to XAT 2023 crash course
Get 5 XAT Mocks for just Rs. 299
In these last few days, aspirants are advised to have a look at the XAT 2023 Syllabus PDF for better understanding and to plan their study plan. Also, XAT mock tests play a vital role in their preparation for analysing their preparation. Aspirants are advised to check out the XAT Previous year Papers to better understand the questions that appear in the actual XAT exam.
Is XAT Tougher Than CAT?
The answer is YES, the XAT is a little bit tougher than CAT because of a section called Decision Making, which deals with Mathematical questions and Behavioral & Managerial questions. Also, the Quantitative Ability & Data Interpretation section will be given some challenging questions as compared to the CAT exam.
By considering the difficulty level of the XAT exam, aspirants are advised to take guidance from the experts to crack the XAT exam. One can enrol for the excellent Cracku XAT Crash Course, which will help to prepare for XAT 2023 with a structured study plan. One can also check out the XAT 2023 study schedule, prepared by the XAT toppers covering the complete XAT 2023 syllabus.
XAT 2023 Preparation Strategy
When it comes to the XAT preparation, there will be two types of students that are preparing for XAT the students who are prepared well for CAT and attempted it and those who do not prepare well for CAT and targetted for XAT. Let us see the preparation strategies for both.
One can also watch this excellent video on 1 Month preparation plan for XAT 2023 by all-time XAT topper cum IIMA Alumna – Sayali Ma'am (XAT 99.998%iler)

XAT Preparation Strategy For Those Students Who Prepared Well For CAT
One can start the XAT preparation with the non-common topics in CAT. The main topics to prepare for XAT include decision-making, general knowledge and essay writing. Let us have a look at how to prepare each of the sections in detail.
Decision Making: This is the unique section in XAT. The best source material to practice for this section is the previous years' XAT papers. The more you practice decision-making questions, the quicker you will get at solving them.
General Knowledge: The marks obtained in this section will not be used for selections in the first round of admissions. It will be considered in the PI rounds and during final admissions. This section tests the student on Current Affairs and Static general awareness. Make sure that you are well-versed with the current affairs of the previous six months on exam day. Focus more on Business & Economics. Also, do not forget to go through different Awards and their recipients, Famous personalities, Geography, Indian Government, Political events and Science. Keep yourself updated with the daily news. Regularly read magazines and books.
Essay Writing: Topics in this section are usually abstract. No straightforward topics. Along with your language, this section will evaluate your thought consistency, logical thinking ability and knowledge.
XAT Mock Test: Take as many mocks as you can. Analyze these mocks thoroughly. If the time spent analyzing the mocks is more than the time spent giving the mock, then you are on the right track. Learn from your mistakes and keep improving your strong and weak areas.
XAT Preparation Strategy For Those Students Who Not Prepared Well For CAT
One can divide their preparation plan into two phases:
The first phase of your preparation study plan should be to cover the Basics from all three sections. In any case, spend enough time learning the fundamental concepts, and make sure you thoroughly understand them. Without strong fundamentals in place, you will not improve your mock scores in the later stages of the preparation. Especially in the Quants section, one must be aware of the basics of the key concepts. In the Decision Making (DM) section, be thorough with the types of questions asked. After covering the basics of all topics, Practice a variety of questions.
In the second phase, taking more XAT Mocks Tests is imperative. Remember that XAT is not a speed test (you would have slightly more than 2 mins per question). There is also no sectional time limit for the XAT exam. Therefore, aspirants must tweak their preparation for the exam to score well. Someone who has practised many standard questions is likely to perform better in the exam. Hence, take more XAT Mocks to get used to this test-taking format. After the mock, analyse the time spent per section and per each question. The candidates must focus on improving their accuracy.
Also, it is recommended to take the mocks during exam time only. This will prepare you better for the exam day.
Let us see the section-wise preparation for the XAT Exam.
How to prepare for XAT Verbal and Logical Ability?
The Verbal section in XAT differs from that of the VARC section in CAT. Though RCs are present here, they do not dominate as much as they do in the CAT VARC section. The questions are usually from a wide range of topics. Aspirants must refresh their basics in grammar and vocabulary as questions from these topics are also tested.
This section of the exam had a few summary questions as well. An important thing to note is that the subject matter of the RCs is dense and is often philosophical. XAT is also known for Poem based short passages. Therefore, aspirants must practice all the RCs from past year papers to get hold of the section.
How to prepare for XAT Quantitative Aptitude?
The quants section is also slightly different from the CAT Quants section. Questions are slightly tougher and demand conceptual clarity over anything else. Therefore, aspirants must focus on strengthening their basics. Also, solve all the quants questions from previous year's papers to know about the types of questions asked in this section. Arithmetic, Geometry, Algebra, Number systems, P&C etc., are tested. Therefore, aspirants must put in more effort while revising these topics.
Though not as tough as those appearing in CAT, the DI questions are difficult to crack. Also, certain DI questions can be from topics such as statistics. Therefore, aspirants must revise the basics of statistics too before the exam (basic Concepts such as variance, S.D.).
Quantitative Aptitude Formulas PDFs for XAT exam.
How to prepare for XAT Decision Making?
This section is the deciding factor in the XAT Exam. Though most aspirants recognize the need to prepare for this section, very few aspirants prepare for this section. This section is one of its kind and is unique to the XAT exam. Therefore, aspirants must be careful while preparing for this section. This is not a very tough section to crack if you prepare well. A unique situation will be presented, and you have to take a decision. There can be questions about Business problems, Ethical dilemmas, etc.
Past papers of XAT are one of the best sources for preparing for this section. Extensive practice is required in this section; aspirants must try to complete all the past papers.
Rather than getting an answer right, the focus must be on determining what makes an option right. Aspirants must analyse what makes an option better suited than the others. The developed thought process will be of great use in the exam.
Candidates can Join our Telegram group of MBA aspirants for quick and regular exam updates.
Enroll to XAT 2022 crash course