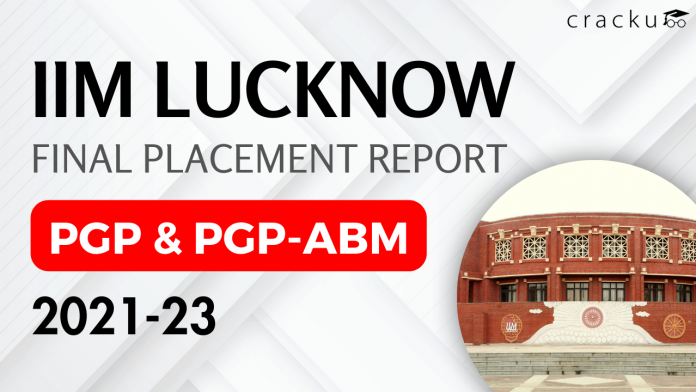 The final placements for the batch of PGP and ABM programs at IIM Lucknow have been successfully completed. This year, the institute achieved a remarkable feat by securing 100% placements for the largest batch in its 37-year history, with 556 students receiving 632 offers. The average package has stood at INR 32.33 LPA, which is an increase of 3.8% compared to the last year. In this article, we will give you valuable insights about the IIM Lucknow final PGP placements (2021-23) and batch profile (PGP & ABM).
Enrol To CAT 2023 Online Course
Placement Key Highlights
IIM Lucknow accomplished a significant milestone by achieving its highest-ever average and median CTC, standing at 32.23 LPA and 30 LPA, respectively. Additionally, the institute recorded its highest domestic and international CTC at 1 CPA and 65 LPA, respectively. Have a look at the below infographics representing the key highlights in IIM Lucknow placements (PGP and PGP-ABM) 2021-23 batch.
Prominent Recruiters Participated In The Final Placement Season
A significant number of established legacy recruiters from within the country and across the world, as well as new recruiters offering diverse job profiles, conducted their recruitment processes successfully. Despite the current state of the economy, the placement drive achieved tremendous success due to the unwavering support of the recruiters and placement teams, resulting in the best placements yet. More than 200 recruiters actively participated in the final placement process, contributing to its overwhelming success. Following are some of the prominent recruiters who participated in the final placement season.

Download Free CAT Previous Papers PDFs
Enrol To CAT 2023 Online Course
Batch Profile 2021-23 (PGP & PGP-ABM):
When it comes to the batch profile of IIM Lucknow for batch 2021-23, the PGP and PGP-ABM batch size is 571 students, and the gender ratio was 71.3% of male and 28.7% female, as shown in the below infographics.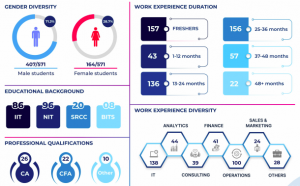 This covers the details of the placements at IIM Lucknow and provides insights into the batch profile of the 2021-23 batch for PGP and ABM programs. The official website of IIM Lucknow offers the placement report in PDF format, which can be accessed for more comprehensive information.
Join our Telegram group of MBA aspirants for quick and regular exam updates.