Solution
B plays with F in team Blue and he likes Mango.
None of those who play for either team Red or team Green likes either Guava or Banana, => B (mango), the one who likes guava and the one who likes banana play for team Blue.
=> Teams red and green have two players each.
G likes Papaya and A likes apple and they both play for team Red.
H likes Watermelon and he plays for team Green along with D.
The one who likes Orange does not play in team Red, => D likes orange.
C does not like Guava, => F likes Guava and C likes Banana.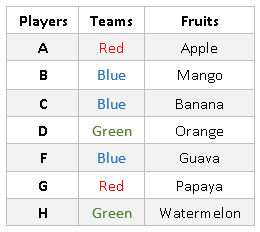 Three players play in team Blue.
=> Ans - (A)