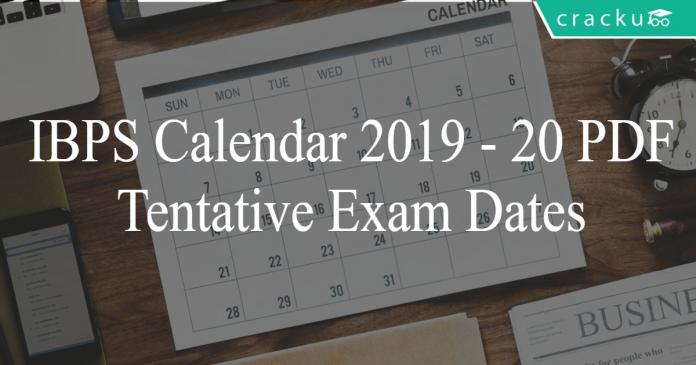 IBPS Calendar 2019 – 2020 PDF & Tentative Exam dates of IBPS PO, Clerk, RRB, SO
Institute Of Banking Personnel Selection has released the Calendar for 2019-2020 for different upcoming bank exams. IBPS will conduct the exams for CWE for RRBs, PSBs, Probationary Officers and Clerk positions. Below is the table showing complete details of the Exams Dates that are going to be conducted.
Download IBPS Calendar 2019-2020 PDF:
Download and go through the calendar of IBPS exams to prepare strategy for exam preparation.
Download IBPS 2019-2020 Calendar PDF
Use coupon SBIDREAM70 – Get 70% Off on Cracku Pass
Update: IBPS RRB 2019-20 Notification is Out
IBPS RRB PO & Clerk Exam Dates
CRP RRB-VIII(Officers) and CRP RRB-VIII(Office Assistants):
preliminary Examination
Officer Scale I and Office Assistants:
03/08/2019, 04/08/2019, 11/08/2019,
17/08/2019, 18/08/2019 & 25/08/2019
Single Examination
Officers Scale II & III: 22/09/2019
Main Examination
Officers Scale I: 22/09/2019
Officer Assistants: 29/09/2019
IBPS RRB Assistant Previous Papers
IBPS RRB Officer Previous Papers
IBPS RRB Officer Free Mock Test
IBPS RRB Assistant Free Mock Test
IBPS PO & IBPS Clerk & IBPS SO Exam Dates:
PSBs – CRP PO/MT-IX, CRP Clerk-IX & CRP SPL-IX:
Probationary Officers
Clerks
Specialist Officers
Preliminary
Examination
12/10/2019
13/10/2019
19/10/2019
20/10/2019
07/12/2019
08/12/2019
14/12/2019
15/12/2019
28/12/2019
29/12/2019
Main Examination
30/11/2019
19/01/2020
25/01/2020
Registration Process:
The registration process will be through Online Mode and there will be single registration for both Preliminary and Mains Examination.
Candidates will be required to upload the following Documents according to the specification:
Photograph of the Applicant – 20 kb to 50 kb in .jpeg file.
Signature of the Applicant – 10 kb to 20 kb in .jpeg file.
Thumb Impression of the Applicant – 20 kb to 50 kb in .jpeg file.
Scanned Copy of the hand written declaration as per the format –
50 kb to 100 kb in .jpeg file.
As mentioned above IBPS will release the notifications as per the schedule. Individual notification will be released for each exam separately. Educational Qualifications required for the exam, Application fee and Exam pattern will be mentioned in the notification.
Free Banking study material can help applicants in their preparation for the exams. Applicants can practice Previous IBPS Banking Question Papers here. Stay tuned to our website Cracku for all upcoming bank exams, Exam preparation tips, Free mocks.