Instructions
Read following table Answer the questions below.
Amar, Babu, Cera and Diya were asked to solve a question paper with 4 multiple choice questions with choices 1,2,3,4. The answer sheet as marked by them is reproduced here.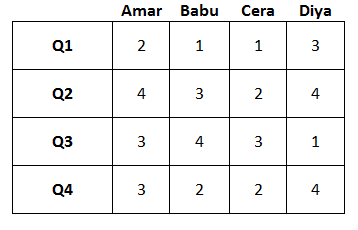 Babu got all answers wrong. Amar s first two answers were definitely wrong. Diya got two answers right but her fourth answer was definitely wrong. Amar and Cera each have got only one correct answer.