Decision Making Questions for XAT Set-2 PDF
Download important Decision Making Questions for XAT Set-2 PDF based on previously asked questions in the XAT exam. Practice Decision Making Questions Set-2 PDF for the XAT exam.
Download Decision Making Questions for XAT Set-2 PDF
Get 5 XAT mocks for Rs. 299. Enroll here
Instructions
Analyse the following caselet and answer the question that follow:
Purushottam Bhatnagar own and operates a sweetshop Puru and Sons. He is about 60 years old is eager to hand over the business to his sons Ratan and Pramod. He however, fears that his sons, fresh from college may not understand the tricks of the trade.
Question 1: Purushottam's younger son Pramod discovered that 10% of their customers whom Purushottam called privileged customers purchased sweets at prices fixed 10 years ago (which is significantly lower than the current prices). Purushottam told him, "This 10% are my core and loyal customers with whom I have personal connect and therefore they deserve this privilege". Pramod refuted his father's argument citing the following Information.
1. These customers from the top 20% of the income bracket of the city.
2. These customers frequently purchase from other sweetshops at market prices.
3. None of them recognizes and greets Purushottam at the shop or at anywhere else.
4. None of them was present at Pramod's marriage.
5. These customers actually buy sweets at Puru and sons for others not part of the core and loyal customer group.
Which of the following combination of the above will MOST LIKELY convince Purushottam to charge the market price to all?
a) 1 and 2
b) 2 and 4
c) 2 and 5
d) 3 and 4
e) 4 and 5
Instructions
Answer questions on the basis of information given in the following case.
Mohan's was a popular fast – food joint at Connaught Place, Delhi. Initially Mohan handled his business alone. His sons, Ram and Kishan, joined the business after graduation from college. Ram was entrepreneurial in nature. Subsequently, another branch of Mohan's was opened in Panipat. Mohan had chosen Ram to head the Panipat branch. Though Ram increased sales in short time, he had stopped using premium quality organic vegetables, the speciality of Mohan's. Mohan and Kishan were not happy with his way of doing business.
Now, the foremost challenge for Mohan was to sort out this issue with Ram. Mohan knew that replacing Ram with Kishan was difficult as Kishan did not want to leave Delhi. However, giving a freehand to Ram might have long term negative consequences. Mohan was confused about the future of course of actions.
Question 2: Mohan sought feedback from a few of his businessmen friends, who were familiar with both the branches. Here is what they said:
– Businessman 1 : Customers of Connaught place and Panipat are very different.
– Businessman 2 : Customers in Panipat are extremely happy with Ram's behaviour.
– Businessman 3 : Panipat branch does not use the same quality of ingredients but maintains good hygiene and taste.
– Businessman 4 : Who knows, tomorrow the customers of Panipat might also appreciate what Connaught place customers appreciate today!
If Mohan thinks all these are valid concerns, which of the following actions would be best for the business?
a) Training Kishan to replace Ram in a few months.
b) Not worrying about ingredients as long as business grows.
c) Bringing Ram to Connaught place branch.
d) Naming the Panipat branch as 'Ram's', and changing it back to Mohan', when needed.
e) Asking Kishan to run the Panipat branch.
Instructions
Answer question on the basis of information given in the following case.
Question 3: Innovative Institute of Business (IIB) has decided to be the first green campus in India. IIB Administration has advised all campus residents to reduce carbon footprints. IIB faculty members did a brainstorming and came up with the following suggestions:
I. Replacing electricity source for street lights with solar panels.
II. Replacing the existing buildings with environment friendly buildings.
III. Organizing a seminar on 'Towards a Sustainable Future' involving all students, staff, and experts from around the country.
IV. Introducing a compulsory course on sustainability to increase awareness among students.
V. Conducting an initial energy audit to explore where IIB can reduce carbon footprints.
Which of the following options would be the most preferred sequence of actions to reduce carbon footprints on campus?
a) II, IV, V
b) IV, V, III
c) V, I, II
d) V, I, III
e) V, III, I
Instructions
Read the following case – let and answer the question that follow
Krishna Reddy was the head of a pharmaceutical company that was trying to develop a new product. Reddy, along with his friend Prabhakar Rao, assessed that such products had mixed success. Reddy and Rao realized that if a new product (a drug) was a success, it may result in sales of 100 crores but if it is unsuccessful, the sales may be only 20 crores. They further assessed that a new drug was likely to be successful 50% of times. Cost of launching the new drug was likely to be 50 crores.
Question 4: Now, Reddy and Rao were in a quandary whether the company should go ahead and market the drug. They contacted Raj Adduri, a common friend for advice. Adduri was of the opinion that given the risky nature of the launch, it may be a better idea to test the market. Rao and Reddy realized test marketing would cost 10 crores. Adduci told them the previous test marketing results have been favorable 70% of times and the success rate of products favorably tested was 80%. Further, when test marketing results were unfavorable; the products have been successful 30% of the times.
What is the probability of product failure if Reddy and Rao decide to test market it?
a) 0.21
b) 0.35
c) 0.14
d) 0.28
e) Cannot be computed
Instructions
Read the following case-let and choose the best alternative for the questions that follow.
Ajay was thinking deeply about a problem that his organization, a business consulting company, faced. Globalization had affected his company like many other companies. Despite the downturn, the current revenues remained healthy. However, Ajay knew it was inevitable that the company could not do business the same way. The complexity of managing the business had increased with time. Consultants were under pressure to deliver good and innovative solutions. The organization had consultants from different age groups having a good mix of domain and industry expertise. It was a flat organization with three levels. The biggest challenge for Ajay was to have consultants with latest knowledge who would also earn revenues. Getting additional business was a challenge as all the consultants were busy and it was very difficult to hire new consultants.
Question 5: Ajay was to retire in five years and he wanted to leave behind a legacy. Order the following
activities, from the most important to the least important, that Ajay should undertake in next five year:
1.Do nothing.
2.Set a future direction for the organization in these challenging times.
3.Benchmark performance with respect to the best consulting company in industry.
4.Empower senior consultants and at the same time seek opinion of all others for handling future challenges.
5.Infuse fresh thinking by hiring outsiders.
Choose the best option from the following sequences
a) 1, 2, 3, 4
b) 2, 3, 4, 5
c) 3, 4, 2, 1
d) 2, 5, 3, 1
e) 2, 5, 4, 3
Instructions on the basis of the information given in the following case.
Dev Anand, CEO of a construction company, recently escaped a potentially fatal accident. Dev had failed to notice a red light while driving his car and attending to his phone calls. His well-wishers advised him to get a suitable replacement for the previous driver Ram Singh, who had resigned three months back. Ram Singh was not just a driver, but also a trusted lieutenant for Dev Anand for the last five years. Ram
used to interact with other drivers and gathered critical information that helped Dev in successfully bidding for different contracts. His inputs also helped Dev to identify some dishonest employees, and to
retain crucial employees who were considering attractive offers from his competitors. Some of the senior employees did not like the informal influence of Ram and made it difficult for him to continue in the
firm. Dev provided him an alternative job with one of his relatives. During the last three months Dev has considered different candidates for the post. The backgrounds of the candidates are given in the table below.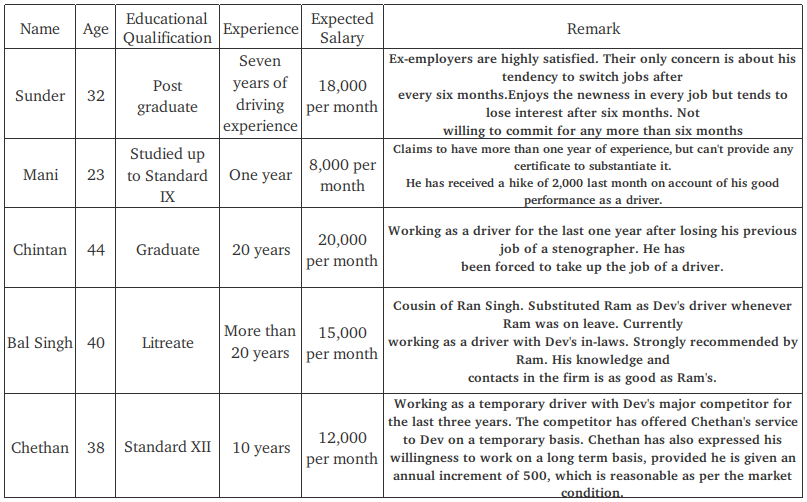 Dev is primarily looking for a stable and trustworthy driver, who can be a suitable replacement for Ram. His family members do not want Dev to appoint a young driver, as most of them are inexperienced. Dev's driver is an employee of the firm and hence the appointment has to be routed through the HR manager of the firm. The HR manager prefers to maintain parity among all employees of the firm. He also needs to ensure that the selection of a new driver does not lead to discontent among the senior employees of the firm.
Question 6: From his perspective, and taking into account the family's concerns, Mr. Dev would like to have
a) Chethan
b) Chintan
c) Bal Singh
d) Mani
e) Sunder
Instructions
The CEO of ABC Telecom Ltd. (ABC) is in a quandary since he received the telephone call in the morning from his counterpart at LMN Telecom Ltd. (LMN). Both companies were engaged in a bitter experience a couple of years ago when they had attempted to merge with the intention of creating a behemoth telecom company, possibly the largest in the world. The merger had fallen through due to opportunistic behavior on the part of Mr. Das, then CEO of LMN. During the time the merger talks were taking place,  Mr. Das had also approached a few other suitors for LMN in an attempt to force ABC to pay a higher price. Further, there were reports of attempts by management of LMN to scuttle the deal. Back then, ABC had also faced stiff opposition to the deal from one of its large shareholders.
Since then, a lot has changed for both companies. The bleak economic conditions due to recession had led to a drastic fall in the market value of both companies, with ABC comparatively losing much more in terms of market value. Raising money has become more difficult for both companies, especially for LMN. On the brighter side for ABC, the opposing shareholder had recently sold off his stake to another investor who earlier had supported the original merger deal with LMN a couple of years ago.
Question 7: Which of the following would be the most appropriate line (s) of thought for the CEO of ABC to adopt in response to the offer by LMN?
I. Once bitten twice shy. There is simply no way I can think of resuming talks with LMN after their unethical behaviour the previous time around. I would rather spend my time on merger discussions with other companies.
Ii. The deal may make less business sense this time around. However, if it goes through, I will become the CEO of the world's largest telecom company. So let us try our luck once more.
Iii. I will resume talks only if they provide guarantees as to the reimbursement of our expenses incurred, in the event of the deal not materializing.
Iv. Let me not be biased against dealing with LMN, if we can secure the deal at a reasonably low price, benefiting our shareholders, let us go ahead with it.
V. I am not sure if we can raise the money now. In any event, they are the ones facing greater financial problems. So let's not hurry now. We might have an opportunity to buy them out at a cheaper price later.
a) i and iii
b) ii and iv
c) ii and iii
d) i and iv
e) iv and v
Instructions
Read the following case and choose the best alternative.
Chetan Textile Mills (CTM) has initiated various employee welfare schemes for its employees since the day the mill began its operations. Due to its various welfare initiatives and socially responsible business practices, the organisation has developed an impeccable reputation. Majority of the regular workers in Chetan Mills had membership of Chetan Mills Mazdoor Sangh (CMMS), a non political trade union. CMMS had the welfare of its member as its guiding principle. Both CTM and CMMS addressed various worker related issues on a proactive basis. As a result no industrial dispute had been reported from the organiza tion in the recent past.
These days majority of the employers deploy large number of contract labourers in their production processes. In an open economy survival of an organization depends on its competitiveness. In order to become competitive, an organization must be able to reduce cost and have flexibility in employment of resources. Engaging workers through contractors (contract labourer) reduces the overall labour cost by almost 50%. Indian labour legislations make reduction of regular workers almost impossible, but organisations can overcome this limitation by employing contract labourers. Contract labourers neither get the same benefit as regular employees nor do they have any job security. According to various recent surveys, government owned public sector units and other departments are the biggest employers of contract labourers in the country. Contractors, as middle – men, often exploit the contract labourers, and these government organizations have failed to stop the exploitation.
Over time CTM started engaging a large number of contract labourers. At present, more than 35% of CM's workers (total 5,000 in number) are contract labourers. CMMS leadership was wary about the slow erosion of its support base as regular workers slowly got replaced by contract workers and feared the day when regular workers would become a minority in the mill. So far, CMMS has refused to take contract labourers as members.
Recently, based on rumours, CTM management started to investigate the alleged exploitation of contract labourers by certain contractors. Some contractors felt that such investigations may expose them and reduce their profit margin. They instigated contract labourers to demand for better wages. Some of the contract labourers engaged in material handling and cleaning work started provoking CTM management by adopting violent tactics.
Today's news – paper reports that police and CTM security guards fired two or three rounds in air to quell the mob. The trouble started while a security guard allegedly slapped one of the contract labourers following a heated argument. Angry labourers set fire to several vehicles parked inside the premises, and to the police jeeps.
Question 8: The criminals in the surrounding area often took their cue from the situation in the mill, creating law and order problems outside the mill which would later make it difficult for workers to come to mill safely. Given the circumstances, identify the stakeholder that should be the immediate priority of CTM management.
a) Contract labourers who were allegedly beaten by the security guard of the company.
b) District administration that is concerned about the spread of violence.
c) CMMS that prefers an immediate settlement of the issue.
d) Customers who are concerned about prices and regular supplies.
e) Contract labourers who are demanding job security and same wages as regular employees.
Instructions
Answer question based on the following information:
On a certain day six passengers from Chennai, Bangalore, Kochi, Kolkata, Mumbai, and Hyderabad boarded the New Delhi bound Rajdhani Express from TataNagar. The following facts are known about these six passengers:
1.The persons from Kochi and Chennai are less than 36 years of age. Person Z, the youngest among all is a doctor.
2.The oldest person is from Kolkata and his/her profession is same as that of the person who got down at Mughal Sarai.
3.The person from Bangalore, Chennai, Hyderabad and Mumbai got down at four different stations. The eldest among these four got down at Koderma and the youngest at Kanpur. The person who got down at New Delhi is older than the person who got down at Mughal Sarai.
4. The engineer from Bangalore is older than the engineer from Chennai.
5. While arranging the teachers in increasing order of age it was observed that the middle person is as old as the engineer from Chennai.
6.Person Y who got down at Mughal Sarai is less than 34 year old.
7.The teacher from Kochi is four year older than the 31 year old doctor who is not from Mumbai.
8.In the past, three of the travellers have served in the Indian Army.
Question 9: Which of the following options is true?
a) The person from Chennai is older than the person from Kochi.
b) The oldest teacher is from Mumbai.
c) The person from Mumbai is older than at least one of the engineers.
d) The person from Kochi got down at Mughal Sarai, and was an engineer.
e) The person who got down at New Delhi is older than Y, who in turn is older than the person from Hyderabad.
Instructions
Vimla is the domestic help for Shreya and her neighbour Padma; both live in a posh gated community. Vimla not only cleans the house, but also cooks for both the families. Shreya treasures Vimla ever since she joined her family four years ago. Vimla joined Padma's household this year.
Question 10: One evening Shreya trying to pay the pizza delivery was surprised to find a few five hundred rupee notes missing from her purse that she was sure were there earlier. She wants to ascertain if someone has stolen the money. On reflecting, the following facts crossed her mind:
1.In the last one year, Shreya had noticed cash missing on three occasions.
2.Shreya's husband also shared that a few notes were missing from his wallet, though he was not sure if they were stolen.
3.Her eldest son had been pestering Shreya for more pocket money for the last three weeks; in the last few days, he had stopped doing so.
4.In the last one year, Vimla had received six mails from her family asking for money.
5.Her eldest son's expenditure had gone up in the last few days.
Which of the following combinations of the above statements would DECREASE the likelihood that Vimla has stolen the money?
a) 1 and 3
b) 1 and 4
c) 1 and 5
d) 2 and 4
e) 3 and 5
Instructions
A University coach was asked to select teams in three sports: Shooting, Cricket (batsmen only) and "Snakes & Ladder". The honest and keen observer head boy of the school informed the coach that he had observed 100 students playing the three games – shooting, cricket and "Snakes & Ladder". In shooting, all students were given 100 chances to hit a target. In cricket, a batsman faced a maximum of 100 balls, provided he DID NOT GET OUT. In "Snakes & Ladder", every student could play 100 matches, one each with the other students and one against a computer. In shooting, a player got one point for hitting the target and zero point for missing the target. In cricket, a batsman got one point for hitting the ball and zero point for missing it. In "Snakes & Ladder", a person got one point for winning the game and zero for losing. To the coach's utter surprise, the distribution of points across all three games was the same. It was as follows: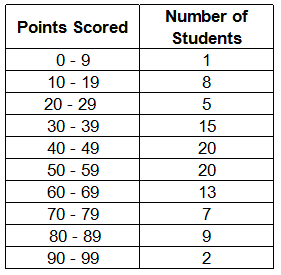 The coach has to select a team of eleven in each sport.
Question 11: Which of the following options is the best way to select the "Snakes & Ladder" team?
a) The coach must select all students between 80 and 99.
b) The coach must select both the students between 90 and 99.
c) The coach must select at least 6 students between 40 and 59.
d) The coach must not select students between 0 and 9.
e) The coach can ignore the data in the table and randomly pick any 11 prayers.
Instructions
Girirajan an unemployed youngster from Kumbakonam, Tamilnadu, visited Singapore where his school friend worked as software engineer. In Singapore, Girirajan realized that there were a lot of Tamils in "Little India" area. He soon assessed that there were very few restaurants serving authentic Tamil food and decided to set-up a restaurant "Giri's" in "Little India" serving authentic Tamil food in traditional banana leaf. Customers loved the food. Very soon word spread about the good quality food served in the traditional way. Girirajan expanded operation recruiting 10 employees, all Tamils.
Six months later, Girirajan realized that a lot of Kannadiga and Telugu customers started visiting the restaurant along with their Tamil friends. One day, a Kannadiga customer looking for Devangere Benne Dosa suggested that it may not be a bad idea for Girirajan to serve Karnataka and Andhra cuisines along with Tamil.
With time, the popularity of the reastaurant kept soaring. As a result, a lot of Malays, Indonesians and Chinese started visiting the restaurant. His software engineer friend advised to cater to customers of all nationalities. Despite his desire to go grand, Girirajan realized he did not have enough money to get extra space anywhere in Singapore and banks were also reluctant to lend.
One day, while assessing the business, he realized that the restaurant had 90% occupancy rate during peak hours and 40% during the non-peak hours. Both figures were increasing with time.
Question 12: Which of the following options would be most suitable for the growth of the business?
a) Include Karnataka and Andhra cuisines in the menu.
b) Include Indonesian and Chinese in the menu.
c) Keep the focus on Tamil food only with an increased focus on quality improvement.
d) Expand to include either Karnataka and Andhra cuisines or Indonesian and Chinese cuisines.
e) Include Karnataka and Andhra cuisines as well as Indonesian and Chinese.
Instructions
Marathe is a Vice President in a construction equipment company in the city of Mumbai. One day, his subordinate Bhonsle requested that Kale, a project manager, be transferred to the Chennai office from the Mumbai office. In Chennai, Kale would work alone as a researcher. Bhonsle gave the following reasons for his request: "Kale is known to frequently fight with his colleagues. Kale is conscientious and dedicated only when working alone. He is friendly with seniors, but refuses to work with colleagues, in a team. He cannot accept criticism and feels hostile and rejected He is over-bearing and is generally a bad influence on the team."
Marathe called upon Gore, another project manager, and sought further information on Kale. Gore recalled that a former colleague, Lakhote (who was also Kale's former boss) had made a few remarks on his appraisal report about Kale. In his opinion, Kale was not fit for further promotion as he was emotionally unstable to work in groups though he had seven years of work experience. Lakhote had described Kale as too authoritative to work under anyone. Lakhote had further told Gore that Kale had an ailing wife, and an old mother, who does not want to stay with his wife.
Question 13: Marathe sought an appointment with Lakhote to find out ways to help Kale. Lakhote is of the opinion that the company's responsibility is restricted to the workplace and it should not try to address the personal problems of employees. If Marathe has to agree to Lakhote's opinion, which of the solutions presented in the previous question would be weakened:
a) 1
b) 2
c) 3
d) 4
e) 5
Question 14: Gastric bypass surgery has been shown to be effective at helping extremely obese people lose weight. Some patients have lost as much as 300 pounds after undergoing the surgery, thereby substantially prolonging their lives. Despite the success of the treatment, most doctors have not embraced the surgery. Which of the following statements, if true, best accounts for the lukewarm reaction of the medical community to gastric bypass surgery'?
a) Gastric bypass surgery carries a high risk of serious complications, including death.
b) Obesity is one of the leading contributors to heart disease and hypertension, two leading causes of death.
c) Incidences of obesity among the Indian urban middle class population have been increasing consistently for the last three decades.
d) Many patients report that losing weight through diets is ineffective, since they usually gain the weight back within six months.
e) Most health insurance plans will cover the cost of gastric bypass surgery for morbidly obese patients at high risk of heart disease.
Instructions
Read the following caselet and choose the best alternative:
Prof. Vijya, the chairperson of the Faculty Academic Committee (FAC), was trying to understand the implications of decisions taken by the Student Placement Committee (SPC) on placement issues.
It was alleged that Biswajit, a final year student, inflated his grades in his bio-data that was sent to the recruiters. The President of SPC requested the FAC to debar Biswajit from the campus recruitment process. When the matter was brought up for discussion in FAC, one of theprofessors remarked that Biswajit too should be allowed to defend himself. When Biswajit arrived for the meeting the situation became even more challenging.
Biswajit raised the issue that many other students who had misrepresented grades to get coveted jobs had gone scot-free. He alleged that these students were close to the President of SPC and therefore, no action was taken against them. He stated that somebody has deliberately manipulated his grades in the bio-data.
This allegation confused the members and it was decided to adjourn the meeting. Vijya was to decide on the next course of action.
Question 15: If you were Vijya what in your opinion would be the most appropriate action?
a) Debar Biswajit and the President of SPC from the placement process as they have failed to uphold the rules of the SPC.
b) Suspend Biswajit and the President of SPC.
c) Constitute a fact finding committee to investigate the matter and ask them to submit a report to you with in week's time.
d) Apprise the corporate recruiters of the situation and assure them that corrective actions will be taken.
e) Both options C and D.
XAT Decision making practice questions
Answers & Solutions:
1) Answer (C)
2) Answer (D)
3) Answer (C)
4) Answer (B)
Results have been favourable 70% of times and success rate of products favourably tested was 80%.
Further, when test marketing results were unfavourable i.e. 30 %; the products have been successful 30% of the times.
The probability of product failure if Reddy and Rao decide to test market it= 7/10$\times\ $2/10 + 3/10$\times\ $7/10=35/100
=0.35
5) Answer (B)
6) Answer (C)
7) Answer (E)
The end goal should be to benefit the company. If a deal is reasonably priced and will be profitable, the idea must be contemplated upon. Statement IV is correct.
Statement V is also reasonable as the deal can be done at a lower price. Also, the one who has burned his fingers must hurry.
Hence, option E is the correct answer.
8) Answer (E)
9) Answer (E)
From the information we can conclude that there are at least 2 engineers and 1 doctor. Also there are more than 2 teachers. Hence, there is only one possibility when there are 3 teachers, 2 engineers and 1 doctor. It is given that two engineers are from Bangalore and Chennai.  It is given that 1 teacher is from Kochi.
Also, the profession of the person who is from Kolkata is same as that of the person who got down at Mughal Sarai. Both of these persons can be teacher only. We are given that the doctor is not from Mumbai. Hence, we can say that the doctor is from Hyderabad.
Also the age of the teacher who hail from Kochi = 31 + 4 = 35 years. Tabulating the information,

We also know that one of two teacher who hail from Kochi and Mumbai got down at Mughal Sarai. Also it is given that the person who got down at Mughal Sarai is less than 34 years old. Hence, we can say that the person who hail from Mumbai got down at Mughal Sarai whose age is between 31 to 34.

It is also given that when the teachers are arranged in increasing order of age, the middle person is as old as the engineer from Chennai.
We know that the teacher from Kolkata is the eldest among all. Hence, we can say that the engineer from Chennai is as old as teacher from Kochi. Also, the engineer from Bangalore is older than the engineer from Chennai. Hence, we can say that the engineer from Bangalore is older than 35 years old.

It is given that the person from Bangalore, Chennai, Hyderabad and Mumbai got down at four different stations. The eldest among these four got down at Koderma and the youngest at Kanpur. We can see that the person who hail from Bangalore is the eldest the person from Hyderabad is the youngest. Hence, they will get down at Koderma and Kanpur respectively.
Also, the person who got down at New Delhi is older than the person who got down at Mughal Sarai. Hence, we can say that the person who hail from Chennai got down at New Delhi.

From the options, we can check that option E is the correct answer.
10) Answer (E)
11) Answer (E)
We have to analyze the nature of the games before answering the questions.
'Snake and ladder' is a game based on luck. Past performance in the game cannot be held as a reflection of one's true potential.
'Shooting' is a game extremely dependent on the skills of the player. Therefore, the past performance of the player has a huge implication on how the player might perform in the future.
In 'cricket' we have details only about the player hitting the ball. A team cannot be composed using batsmen alone. Therefore, the past performance in this sport, though reflective of the person's abilities, cannot be used to form a good team since some data are missing.
As we have seen, snakes and ladders is a game based on luck. Therefore, the coach can ignore the data and select 11 students randomly. Therefore, option E is the right answer.
12) Answer (C)
13) Answer (E)
14) Answer (A)
15) Answer (C)
We hope this Decision Making  Questions PDF for XAT with Solutions will be helpful to you.