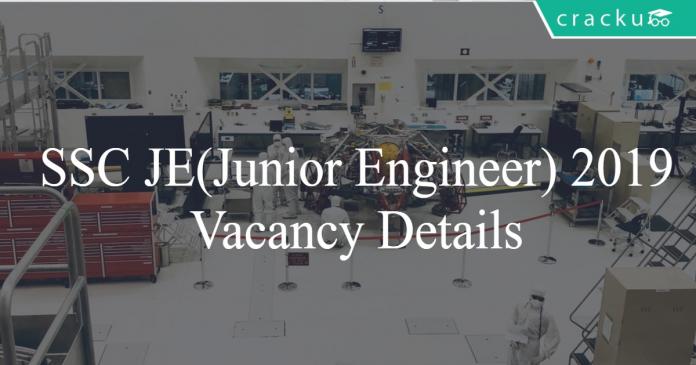 SSC Board announced SSC JE (Junior Engineer) recruitment for 1601 vacancies for the year 2018-19. SSC JE exam is conducted to recruit candidates for the posts of Junior Engineers in the field of Civil, Mechanical, Electrical, Quantity Surveying & contracts for various departments/organisations. Recently, SSC has announced the number of vacancies available for different posts category wise.
Candidates who have done their B.tech or B.E or Diploma from Civil, Electrical, Mechanical and age between 18 to 32 years are eligible for these posts.
SSC CHSL Previous years Question Papers
25 SSC CHSL Mocks – Just Rs. 149
SSC JE Tier 1 exam is scheduled from 23rd Sep to 19th Sep 2019.
Free SSC study material for all SSC exams.
Also try SSC CGL Free mock test
SSC JE 2019 Vacancy Details:
| | | | | | | |
| --- | --- | --- | --- | --- | --- | --- |
| Organisation Name | Post | SC | ST | OBC | UR | Total |
| Central Water Commission | Junior Engineer (Civil) |  18 | 18 | 40 | 72 | 148 |
| Central Water Commission | Junior Engineer (Mechanical) |  2 | 2 | 4 | 8 | 16 |
| Central Public Works Department (CPWD) | Junior Engineer (Civil) | 43 | 21 | 77 | 147 | 288 |
| Central Public Works Department (CPWD) | Junior Engineer (Electrical) |  28 | 14 | 50 | 99 | 191 |
| Military Engineering Services (MES) | Junior Engineer (Civil) |  19 | 4 | 14 | 39 | 76 |
| Military Engineering Services (MES) | Junior Engineer (Electrical & Mechanical) |  5 | 5 | 14 | 19 | 43 |
| Military Engineering Services (MES) | Junior Engineer (Quality Surveying and Contract) |  3 | 2 | 7 | 14 | 26 |
| Farakka Barrage Project | Junior Engineer (Civil) |  4 | 1 | 6 | 4 | 15 |
| Farakka Barrage Project | Junior Engineer (Electrical) |  0 | 0 | 0 | 1 | 1 |
| Farakka Barrage Project | Junior Engineer (Mechanical) |  0 | 0 | 0 | 1 | 1 |
| Border Road Organisation | Junior Engineer (Civil) |  114 | 57 | 207 | 389 | 767 |
| Central Water and Power Research Station | Junior Engineer (Civil) |  0 | 1 | 1 | 1 | 3 |
| Central Water and Power Research Station | Junior Engineer (Mechanical) |  0 | 0 | 0 | 1 | 1 |
| Directorate of Quality Assurance | Junior Engineer (Mechanical) |  2 | 2 | 1 | 6 | 11 |
| Directorate of Quality Assurance | Junior Engineer (Electrical) |  2 | 2 | 2 | 8 | 14 |
| | Total | 240 | 129 | 423 | 809 | 1601 |
Download Highly Rated SSC Exam App