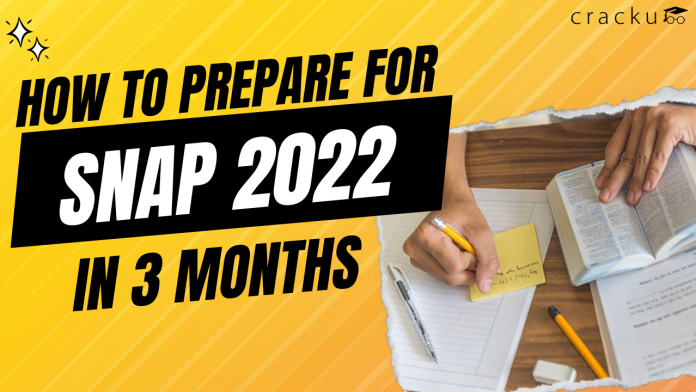 How to Prepare For SNAP 2022 in 3 Months – Self Study Plan that covers the complete SNAP 2022 Syllabus
The Symbiosis National Aptitude Test (SNAP) is a popular entrance exam conducted by the Symbiosis International University (SIU) Pune. The exam is conducted for admission into the 26 MBA programs offered at 15 institutes (such as SIBM Pune, SCMHRD, SIIB, etc.). The SNAP Exam 2022 will be held on three dates, as it was conducted last year. The SNAP exam registration has already started and will be closed on November 24th, 2022. The candidates who are already preparing for CAT can leverage their CAT preparation to score well in the SNAP exam. In this article, we will see how to prepare for SNAP in 3 months and the top colleges accepting the SNAP scores.
One can ace the SNAP 2022 exam with a perfect study plan which is pre-planned that help you to cover the complete SNAP syllabus 2022. Aspirants are advised to utilize the online SNAP mocks that are made based on the latest pattern. These mocks that mimic the exam pattern, syllabus, interface, and difficulty level are very helpful for SNAP exam preparation.
SNAP Syllabus 2022 PDF
It is advised to check out the SNAP syllabus 2022 before preparing the study plan for SNAP 2022. One can download the PDF of the SNAP 2022 syllabus by clicking the below link.
Download SNAP Syllabus 2022 PDF
SNAP 2022 Exam Important Dates
Event

Important Dates

SNAP 2022 Registration

SNAP 2022 Registration Last Date

November 24, 2022 (Thursday)

SNAP 2022 Admit Card (www.snaptest.org)

December 05, 2022 (for SNAP Test-1)

December 10, 2022 (for SNAP Test 2 & 3)

SNAP 2022 Test – 1

SNAP 2022 Test – 2

SNAP 2022 Test – 3

SNAP 2022 Result

January 10, 2023 (Friday)
SNAP 2022 Exam Pattern
| | | | |
| --- | --- | --- | --- |
| Section name | No. of questions | Marks per correct answer | Total marks |
| General English: Reading Comprehension, Verbal Reasoning, Verbal Ability | 15 | 1 | 15 |
| Quantitative Ability(QA), Data Interpretation (DI) & Data Sufficiency | 20 | 1 | 20 |
| Analytical & Logical Reasoning | 25 | 1 | 25 |
| Total | 60 | | 60 |
The Duration of the SNAP 2022 Exam is 60 Minutes.
SNAP 2022 is Conducted Online, and it is an objective test. Each question has four options Candidate should choose an appropriate option.
Each wrong answer attracts 25% negative marks.
Also, as per the official website: A candidate can take upto three attempts for the SNAP. If a candidate appears for more than one test, the higher score will be considered for the final percentile calculation, and there will be no normalization.

SNAP 2022 Test Cities: The SNAP exam will be conducted across 86 cities. As per the notification, No request for a change of test date or test city will be entertained once a candidate has paid the SNAP Test registration fee. Test City and Test Date are allocated on a first-come, first serve basis.
How to prepare for SNAP in 3 Months (Section-wise Study Plan)
SNAP is relatively easier when compared to CAT and XAT. Hence the candidates should focus on all the sections during the preparation. Although most institutes (accepting the SNAP scores) do not consider sectional cut-offs, aspirants should not skip any section completely. Having balanced preferences will allow aspirants to pick up the low-hanging fruits in all the sections. Let us see how to prepare for the SNAP 2022 Exam in 3 months.
Divide your study plan into two phases:
The first phase of your study plan should be to cover the Basics from all three sections. In any case, spend enough time learning the fundamental concepts and make sure you thoroughly understand them. Without strong fundamentals in place, you are not going to improve your mock scores in the later stages of the preparation. Especially in the Quants section, one must be aware of the basics of the key concepts. In the LR section, be thorough with the basic types of questions such as blood relations, coding-decoding, rankings, arrangements, etc. There is no need to go deep with particular topics. Cover just the basics of all topics and Practice more questions.
In the second phase, taking more SNAP mock tests is imperative. SNAP is more of a speed test. The duration of the exam is 60 minutes. Therefore, aspirants must tweak the way they prepare for the exam to score well. Most of the questions in SNAP do not require intricate thinking to solve. Therefore, someone who has practised a large number of standard questions is likely to perform better in the exam. Hence, take more SNAP Mocks to get used to this test-taking format. After the mock, analyse the time spent per section and each question. The candidates must focus on improving speed and accuracy based on the analysis made using mocks.
The duration is of the exam 1 hour (for 60 questions). That is one min per question. If your basics are strong in each topic, and if you give enough mocks and analyse them properly, you can crack the SNAP exam easily. Also, it is recommended to take the mocks during exam time only. This will prepare you better for the exam day.
Now let us have a look at the section-wise study plan for SNAP 2022 in 3 months in detail.
SNAP 2022 Section-wise Study Plan
General English
Start with reading what you like, and then read articles from different genres to make yourself comfortable with various writing styles. This will improve your reading ability. That is what the candidate needs to crack this section.
Solve at least one RC every day. Reading regularly and practising RC's every day is essential to crack this section. Read the complete paragraph thoroughly until you understand. Avoid speed reading, skimming, surfing and other such gimmicky techniques.
Also, Spend some time on Verbal Ability Concepts where you don't have confidence. And do not spend too much time on it.
Quantitative Ability(QA), Data Interpretation (DI) & Data Sufficiency
The Quant basics will play a crucial role in this Quantitative Ability section. Most of the Candidates will neglect to view the quant basics during the preparation. They will directly move on to solving the problems without having strong knowledge of Quant basics. The Candidates may forget the infrequently used concepts. So it is essential to allocate some time for refreshing the concepts.
Try to solve two sets every day, i.e. one set is from Data Interpretation (DI) and one from Data Sufficiency.
Analytical & Logical Reasoning
Analytical & Logical Reasoning is a section that can improve your thought process. Start with learning the fundamental concepts of the types of sets that have appeared in the past 3–4 years in the exam, and learn to represent them logically. Try to approach different types of sets. Solving various types of sets will help you face fatigue in this section. 
One can utilize the online SNAP mock tests that mimic the actual examination and also the SNAP previous year's papers, which are one of the best sources for SNAP 2033 preparation.
Candidates can Join our Telegram group of MBA aspirants for quick and regular exam updates.
Download Highly Rated MBA preparation App