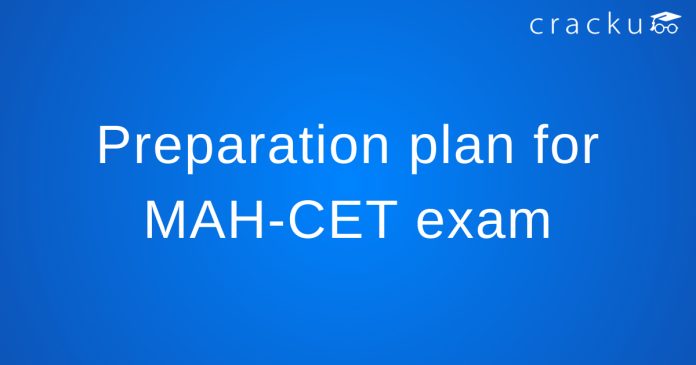 How to prepare for MAH MBA CET 2021
MAH-CET 2021 is expected to be held on 4th week of March 2021. The State Common Entrance Test Cell, Maharashtra, will be conducting the MAH-CET exam for admission to MBA/MMS courses offered by colleges across Maharashtra. Once the registration starts candidates must register for the MAH-CET 2021 exam on the official website. In this post we will focus on the detailed preparation plan for the MAH-CET exam.

There are four sections in the MAH-CET exam:
Verbal Ability and Reading comprehension – 50 questions
Logical Reasoning – 75 questions
Abstract Reasoning – 25 questions
Quantitative Aptitude -50 questions 
Preparation plan for MAH-CET
Firstly, go through the syllabus and identify the areas you find challenging. Then make a daily plan, which covers every topic. Focus more on the topics that come specifically in the MAH-CET exam if you think you need more time to improve in those sections.
If you started preparing from Feb, in the first 2- 3 weeks of your preparation, Cover the basics of each topic. Once basics of all sections are covered, get hold of the topics specifically crucial for the MAH-CET exam. Focus more on the Logical Reasoning section as it has the maximum number of questions in the exam; and the Abstract Reasoning section. So, in the next 1-2 weeks, focus more on the Logical Reasoning section; and also practice the Abstract Reasoning questions.
Students must have a proper study plan in place and must stick to it to ace the exam. Try to dedicate one hour for each section every day. This timing may vary depending on whether a section is your strength or your weakness. Spend more time on improving your weak areas. Overall try to spend around 3 hours every day, can spend more time if you think you need more time to improve in your weak areas.
Especially if one targets top colleges like JBIMS, you have to focus your preparation equally on all the areas; you cannot ignore any section. Give importance to every section during your practice. A Major part of your preparation should be on speed building, and it comes from practising a variety of problems and being familiar with the concepts. Also, during practice, focus more on improving speed calculations and reading more, as they will help you save time during the exam.
Take a free mock test for MAH MBA CET
Download MAH-CET 2021 Syllabus PDF
You can follow the following schedule for each section:
How to prepare for MAH MBA CET VARC section:
Verbal Ability & Reading Comprehension Section– This section's topics include – Reading Comprehension, Grammar-based questions (error correction, spelling/inappropriate usage, sentence completion and word arrangement), Vocabulary, Antonyms/Synonyms, Para Jumbles, etc.                            
There is no substitute for reading when it comes to improving speed in this section. Read from different sources (newspapers, editorials, magazines etc.) Try to solve at least 1 RC per day, along with 15-20 questions on Vocab based exercises and grammar. In RC's try to get the right answer by eliminating the wrong options. In the VA questions, one can solve these questions in less time, so one should not miss this section. If you're weak in Vocab, can maintain word list and refer to it daily.
How to prepare for MAH MBA CET LR section:
The Logical Reasoning section– This section contains the maximum weightage of 75 marks. This section's topics include – Linear & circular arrangements, Distributions, Critical reasoning, Coding/decoding, Blood relations, Directions, Syllogisms, Series completion, Input-Output, Data sufficiency (logical reasoning based), etc.
The key point to crack this section is representing the data correctly. You can do it fast if you can solve it in an organised manner. Solve at least 15-20 questions every day to get hold of this section.
How to prepare for MAH MBA CET Abstract Reasoning section:
Abstract reasoning section–  Here the questions include Series Completion, Odd one out, and Analogies (identifying the relation between two figures and choosing the option that carries the same relationship.)   
The best way is to improve scores in this section is practising a maximum variety of questions, and finding out the right ways to identify the figures. Try to practice around 15 questions every day from this section.
How to prepare for MAH MBA CET Quantitative Aptitude section:
Quantitative Aptitude Section – The topics include– Arithmetic, Algebra, Geometry and Mensuration, data sufficiency, Data interpretation- (Graphs, Charts, Tables, Venn diagrams), and Miscellaneous topics like probability, numbers, etc.    One can easily improve in this section if your fundamentals are clear. The questions are of moderate difficulty level. To improve speed, spend around 20 mins on mental calculations every day, and learning tables (till 25), squares (till 50), cubes (till 30) will also help save time during the exam. Practice about 15-20 questions in quant every day.
Data Interpretation (DI) is one of the essential parts in this section, so try to practice 3-5 DI Sets every day. You can do it fast if you can approximate properly. You should be fast at doing approximate calculations and mark the closest answer. During practice, the key is to find better ways of solving for QA questions.
Join Telegram group of MBA aspirants
The key is to keep building your speed during your preparation, but one cannot improve speed without having strong fundamentals in place. So be familiar with the concepts and focus on the practice and mock tests.
How to utilize mocks tests for MAH MBA CET:
Some important points about the mock tests:
Take more mock tests: CET is a speed-based exam, so the most important part of the preparation is giving more mocks and analysing them.

Taking time-bound tests becomes very crucial. 

Once you have covered all the essential concepts, the central part of your preparation should be focused on giving more mock tests and trying to build your test-taking strategy. The primary focus should be on the mocks and Revising the essential topics in the last month.

Give 2- 3 mocks per week. Analyse thoroughly to assess your progress, see how many minutes you spent on each section, and practice those areas more where you need more improvement.
Pay more attention to your weak areas in mock analysis, and change your strategy accordingly.
Students must take the mock tests seriously. There's no sectional time limit, so one must know how to manage time in each section. Having a strategy helps you identify which sections to attempt first.
The balance between accuracy and speed is essential, as there's no point in solving with more speed but will less accuracy. Both are important to get high scores.
An entrance exam like MAH-CET requires proper planning with respect to the preparation and most importantly, proper test-taking strategy. It is not an entrance test which you can ace without adequate planning. Joining a MBA CET Crash Course helps you drastically improve your scores.
The exam is of moderate difficulty level, and there's no negative marking also. So if you can work strategically towards your preparation, you can definitely improve your scores.
Enroll to MAH-MBA Crash Course