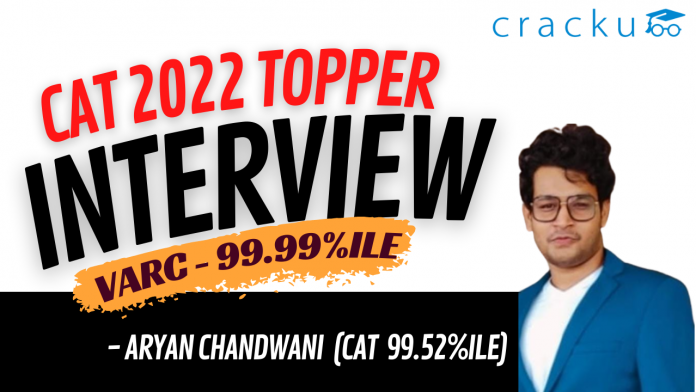 CAT 2022 Topper Aryan Chandwani – 99.52%ile (VARC: 99.99%ile) – Interview By Cracku | Discusses His Journey of Cracking CAT 2022
As we all know, CAT 2022 has been completed, and almost 2.2 Lakhs of students have appeared for CAT this year. The CAT 2022 exam was considered difficult by most aspirants. Meanwhile, a MIT Manipal graduate and one of the CAT 2022 toppers, Aryan Chandwani, cracked the CAT 2022 exam by acquiring a 99.52 overall percentile (he took the exam in slot 1). And the main thing we have to notice is that he scored 99.99 percentile in the VARC section, which is a pretty good score. We conducted an interview with Aryan Chandwani. He shared his journey of CAT preparation and the exam-taking strategy. Have a look at the interview in a conversation format below.
CAT 2022 Topper Interview With Aryan Chandwani
Cracku: Can you tell us about your preparation journey and when you started your preparation?
Aryan Chandwani: After my Engineering, I always wanted to get an MBA from the top IIMs. I started my prep in 2021, where I gave a bunch of mock tests on Cracku. However, due to some problems, I could not attend CAT 2021, after which I got serious with my preparations.
Cracku: How did you manage your time during the Job?
Aryan Chandwani:  Rather than using conventional methods of studying, I used to solve 'Riddles and Puzzles' by Ted Ed on youtube or take up mock DILR tests, which I absolutely love solving so it served the dual purpose of a fun break and valuable learning. I also have a habit of reading around 5-15 pages a day; from any book with valuable lessons before I sleep, boosting my reading speed.
Cracku: You scored 99.99 percentile in VARC. What were your methods to tackle this section?
Aryan Chandwani: I used a very unique technique to score high in RCs. Instead of reading the paragraph, I start by reading the questions first; this way, I know exactly what I am supposed to look for when I am reading the comprehension and when I reach the line where I see my supposed answer, it is very easy to select the right option. Some questions in my slot did not require me to read the comprehension at all, which saved me a lot of time too. This technique is effective as you don't have to read the comprehension multiple times to get the answer and then check it again. Your first read itself gives you a very precise feel of the answers.
Enroll to TISSNET 2023 Crash Course
Cracku: What are some mistakes you made while giving the test?
Aryan Chandwani: There are moments in the test where you have given a lot of time to a question and feel you 'almost have the answer'. Just a few seconds more, and you can get it right. This may be true sometimes, but most of the time, you just might not. Hence it is really important to grasp this fact early on and move on to easier questions rather than hitting a wall at the end. Just the ability to be able to gauge this is a very valuable skill that comes with practising mocks and ultimately saves you a lot of time on D-day.
Cracku: Please share the CAT Exam Taking strategy that you have applied.
Aryan Chandwani: My exam strategy mainly revolved around quickly doing questions I could solve in less than 45 seconds and moving on to the next one if I knew I couldn't. Simply reading the question, especially in QA, gives you an idea of how much time it would take to solve it with a thumb rule of 'If you don't know the topic, just skip'. This helps you get your accuracy up. Once you've gone through the paper once at lightning speed, recheck your answers and then start solving the problems you know you can, but it would take time, prioritising the easier topics first. Do not over-attempt the paper at any cost, as this would do more harm than good. Lastly, always make sure you have marked the correct answers and that it has been registered, as this one simple thing cost me close to 10-12 marks.
Cracku: Is there anything that you would like to tell the CAT aspirants?
Aryan Chandwani: Stay calm and practice hard. Do not think of it as you are studying; make it fun and enjoyable to get in for long hours without feeling the burn. Use the sandwich method wherein you do the fun sections VARC and DILR before and after QA. Since QA can sometimes be hectic and cannot be done over long stretches, sandwich it with more fun concepts from DILR and VARC. Finally, on D-day, be wary of your time, solve questions as fast as possible, and move on to the next if you think you simply can't.
Candidates can Join our Telegram group of MBA aspirants for quick and regular exam updates.