Banking Structure in India PDF gives the Structure of Banking in India. It gives the total the total glimpse of Indian Banking System in PDF.
Many questions like "who controls the monetary policy of the Indian rupee" and "In public sector banks what is the share of Government " are asked from this Banking Structure in India PDF, we can see that from SBI Clerk previous solved question papers.
Take a Free Mock Test of RBI Grade B, all the best for the upcoming bank exams.
Download the Banking Structure in India PDF and go through this very important GK for Bank exams like SBI, IBPS PO and Clerk and RBI Grade B.
Download all GK & current Affairs PDF
Download Daily Current Affairs – Today's Quiz
[icegram campaigns="7908″]
Download Structure of Banking in India PDF
Take IBPS Clerk Free Mock Test
Download RBI  Grade B detailed syllabus PDF
Explanation of the Banking Structure in India:
Banking System in India
The following figure shows the Banking Structure in India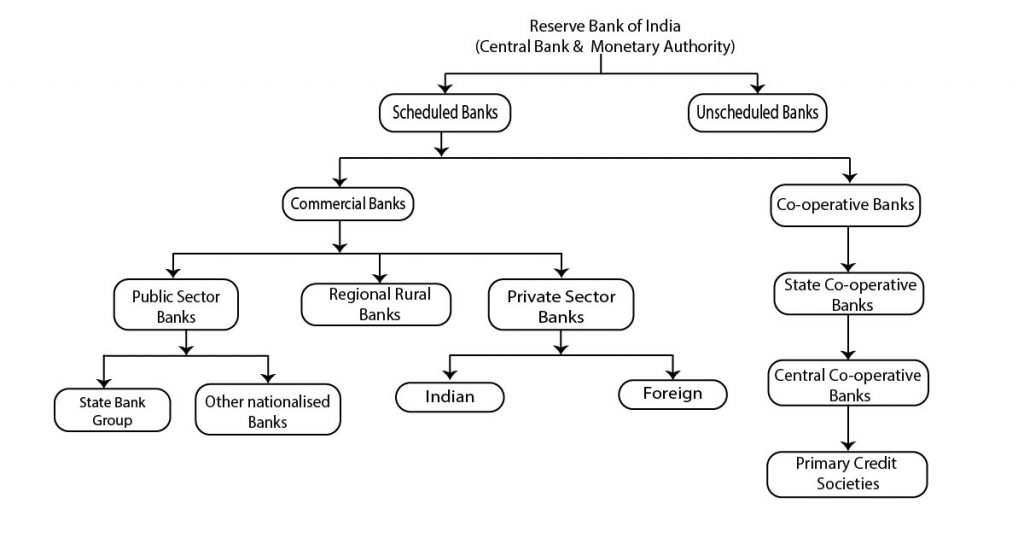 Reserve Bank of India (RBI)
The Reserve Bank of India (RBI) is India's central banking institution, which controls the monetary policy of the Indian rupee. It commenced its operations on 1 April 1935 during the British Rule in accordance with the provisions of the Reserve Bank of India Act, 1934 and in 1949 it was nationalized.
The Central Office of the Reserve Bank was initially established in Calcutta but was permanently moved to Mumbai in 1937. The Central Office is where the Governor sits and where policies are formulated. Sir CD Deshmukh is the first Governor of RBI. The RBI has four Zonal offices at Chennai, Delhi, Kolkata, Mumbai and 20 regional offices mostly located in the state capitals and 11 sub-offices.
Reserve Bank of India Act, 1934 is the legislative act under which the Reserve Bank of India was formed. This act along with the Companies Act, which was amended in 1936, were meant to provide a framework for the supervision of banking firms in India.
The Preamble of the Reserve Bank of India describes the basic functions of the Reserve Bank as: "to regulate the issue of Bank notes and keeping of reserves with a view to securing monetary stability in India and generally to operate the currency and credit system of the country to its advantage".
RBI Hierarchy
RBI is managed by Central Board of Directors. It is the main committee of the Central Bank. The Board consists of a Governor, and not more than four Deputy Governors, four Directors to represent the four regional boards, two from the Ministry of Finance and 10 other directors from various fields which accounts to 21 members in total.
The Government of India appoints the Governor and Deputy Governors for a period of 5 years and the directors for a 4-year term. Two of the four Deputy Governors are traditionally taken from RBI's Executive Directors. One is nominated from among the Chairpersons of public sector banks and the other is an economist. An Indian Administrative Service officer can also be appointed as Deputy Governor of RBI and later as the Governor of RBI as with the case of Y. Venugopal Reddy.
At present the bank is headed by the Governor and the post is currently held by economist Urjit Patel. There are 3 Deputy Governors BP Kanungo, N S Vishwanathan and Viral Acharya. Practice General Knowledge Online tests for Banking exams and learn more. 
Central Board: The Reserve Bank's affairs are governed by a central board of directors. The board is appointed by the Government of India in keeping with the Reserve Bank of India Act. Its functions are General superintendence and direction of the Bank's affairs.
Local Board: Local Boards consists of one each for the four regions of the country in Mumbai, Calcutta, Chennai and New Delhi appointed by the Central Government for a term of four years. It advises the Central Board on local matters and to represent territorial and economic interests of local cooperative and indigenous banks; to perform such other functions as delegated by Central Board from time to time.
Financial Supervision: The Reserve Bank of India performs this function under the guidance of the Board for Financial Supervision (BFS). The Board was constituted in November 1994 as a committee of the Central Board of Directors of the Reserve Bank of India. The Primary objective of BFS is to undertake consolidated supervision of the financial sector comprising commercial banks, financial institutions and non-banking finance companies. This is one of the important point to learn from this Banking Structure in India PDF.
Legal Framework: It is administered by Reserve Bank of India. Its main functions are Monetary Authority, Regulating and supervising of the financial system, Managing of Foreign Exchange, Issuing of currency and other Developmental roles.
Training Establishments:
It has five training establishments-Two, namely, College of Agricultural Banking and Reserve Bank of India Staff College are part of the Reserve Bank. Others are autonomous, such as, National Institute for Bank Management, Indira Gandhi Institute for Development Research (IGIDR), Institute for Development and Research in Banking Technology (IDRBT).
Subsidaries of RBI:
Deposit Insurance and Credit Guarantee Corporation (DICGC)-1978 for the purpose of providing insurance of deposits and guaranteeing of credit facilities.
National Bank for Agriculture & Rural Development (NABARD) is set up as an apex Development Bank-1982 for facilitating credit flow for promotion and development of agriculture, cottage and village industries
National Housing Bank (NHB), was set up on 9 July 1988 under the National Housing Bank Act, 1987.
Bharatiya Reserve Bank Note Mudran Private Limited (BRBNMPL)-1995 prints bank notes (Indian rupees) for Reserve Bank of India (RBI). It has two presses in Mysore and Salboni.
Download List of Banks, Taglines and their Chairman's PDF.
Scheduled & Non Scheduled Banks:
Scheduled Banks in India refer to those banks which have been included in the Second Schedule of Reserve Bank of India Act, 1934. Banks not under this Schedule are called Non-Scheduled Banks. In other words, Banks with a reserve capital of less than 5 lakh rupees qualify as non-scheduled banks. Unlike scheduled banks, they are not entitled to borrow from the RBI for normal banking purposes, except, in emergency or "abnormal circumstances."
Coastal Local Area Bank Ltd (Vijayawada, AP), Capital Local Area Bank Ltd (Phagwara, Punjab), Krishna Bhima Samruddhi Local Area Bank Ltd (Mahbubnagar, Telangana), Subhadra Local Area Bank Ltd (Kolhapur, Maharashtra) are the only Non-Scheduled Banks in India.
Scheduled Banks are further internally classified into Commercial Banks and Co-operative Banks.
Commercial Banks: A commercial bank is a type of financial institution that provides services such as accepting deposits, making business loans, and offering basic investment products to the general public and to companies.
Co-operative Banks: A bank that holds deposits makes loans and provides other financial services to cooperatives and member-owned organizations.
| | | |
| --- | --- | --- |
| # | Commercial Banks | Co-operative Banks |
| Registration | Commercial Banks are required to be registered under Banking Regulation Act, 1949. | Co-operative Banks are required to be registered under the Co-operative Societies Act, of the concerned state. |
| Function | To accept deposits from public for the purpose of lending to industry and commerce. | To accept deposits from the members and the public for the purpose of providing loans to farmers and small businessmen with a motto of service. |
| Capital/Funds | Huge funds are available for Commercial Banks. | Limited funds are available for Co-operative Banks. |
| Area of Operation | They are spread across the country & some banks have foreign presence. | Their scope is limited and restricted to state level. |
| # | Commercial Banks | Co-operative Banks |
| Nationalization | There are about 21 Nationalized Public sector banks | None of the Co-operative Banks are Nationalized. |
| Merchant Banking Services | Almost all the Commercial Banks provide Merchant Banking Services. | Co-operative Banks do not provide Merchant Banking Services. |
| Mutual Funds | At present Canara Bank, Bank of India, State Bank of India, do operate mutual funds. | Co-operative Banks do not operate mutual funds. |
| Main Motive | They Operate on Commercial principles in order to earn profits. | The basis of their operations is service to its members and the society. |
| Interest % | They provide less interest compared to Co-operative Banks. | Co-operative Banks provide interest more than commercial banks. |
A merchant bank is historically a bank dealing in commercial loans and investment. In modern British usage it is the same as an investment bank.
A mutual fund is a professionally-managed investment scheme, usually run by an asset management company that brings together a group of people and invests their money in stocks, bonds and other securities.
Public Sector Banks:
Public Sector Banks (PSBs) are banks where a majority stake (i.e. more than 50%) is held by a government. The shares of these banks are listed on stock exchanges. There are a total of 21 PSBs in India and State Bank of India group.
In 1969, the Indira Gandhi-headed government nationalized 14 major commercial banks(Allahabad Bank, Bank of Baroda, Bank of India, Bank of Maharashtra, Canara Bank, Central Bank of India, Dena Bank, Indian Bank, Indian Overseas Bank, Punjab & Sind Bank, Punjab National Bank, Syndicate Bank, UCO Bank, United Bank of India)
In 1980, a further 6 banks were nationalized (Andhra Bank, Corporation Bank, New Bank of India, Oriental Bank of Commerce, Punjab & Sindh Bank, Vijaya Bank).
IDBI Bank is an Indian government-owned financial service company, formerly known as Industrial Development Bank of India, headquartered in Mumbai, India. It was established in 1964 and Nationalized in the year 2005.
SBI Merger & Consequences:
State Bank of India, which is India's largest Bank merged with five of its Associate Banks (State Bank of Bikaner & Jaipur, State Bank of Hyderabad, State Bank of Mysore, State Bank of Patiala and State Bank of Travancore) and Bharatiya Mahila Bank with itself. This is the first ever large scale consolidation in the Indian Banking Industry. With the merger, State Bank of India will enter the league of top 50 global banks with a balance sheet size of ₹33 trillion, 278,000 employees, 420 million customers, and more than 24,000 branches and 59,000 ATMs.
You can know more from History of Banking in India PDF 
Private Sector Banks:
The "private-sector banks" are banks where greater parts of share or equity are not held by the government but by private shareholders. There are many Indian and Foreign Private Banks in India.
HDFC Bank, ICICI Bank, Axis Bank, Kotak Mahindra Bank, Yes Bank, IDFC Bank, RBL Bank, Federal Bank, City Union Bank are the major private banks in India.  There are also several foreign banks in India mainly operating in urban areas and Metropolitan Cities. 
Regional Rural Banks:
Regional Rural Banks were formed on Oct 2, 1975 upon the recommendations of M. Narasimham Working Group during the tenure of Indira Gandhi's government. The objective behind the formation of RRBs was to serve large unserved population of rural areas and promoting financial inclusion. They have been created with a view to serve primarily the rural areas of India with basic banking and financial services. However, RRBs may have branches set up for urban operations and their area of operation may include urban areas too.
Co-Operative Banks:
The Co-Operative Banks are further classified into:
State Co-Operative Banks
Urban/Central Co-Operative Banks
Primary Credit Societies
State Co-Operative Banks
State Co-Operative Banks are small financial institutions which are governed by regulations like Banking Regulations Act, 1949 and Banking Laws Cooperative Societies Act, 1965. At present there are about 33 State Co-Operative Banks of which 19 are scheduled.
Urban/Central Co-Operative Banks: The term Urban Co-operative Banks (UCBs) refers to primary cooperative banks located in urban and semi-urban areas. These banks, till 1996, were allowed to lend money only for non-agricultural purposes. This distinction does not hold today. These banks were traditionally centered around communities, localities work place groups. They essentially lent to small borrowers and businesses. There are about 2,104 UCBs of which 56 were scheduled banks. About 79 percent of these are located in five states, – Andhra Pradesh, Gujarat, Karnataka, Maharashtra and Tamil Nadu.
Primary Credit Societies: Primary Credit Societies (or) Primary Agricultural Credit Society (PACS) is a basic unit and smallest co-operative credit institutions in India. It works on the grassroots level (gram panchayat and village level). It virtually function like banks, but whose networth is less than Rs.1 lakh; who are not members of the payment system and to whom deposit insurance is not extended.
Download Current Affairs App here
For GK PDF's Visit General knowledge questions and answers for competitive exams PDF.