Bharatiya Vidya Bhavan's S P Jain Institute of Management and Research (SPJIMR), Mumbai is one of the leading management institutes with a uniques pedagogy that combines rigorous course work with value-based education and strong student-faculty connect. SPJIMR featured at rank 39 at a global level in the 'Financial Time Masters in Management(MIM) Ranking 2021. This Institute is also ranked among the top 5 in India by Outlook and Business Today. SP Jain Institute has successfully completed its final placement season for the PGDM batch of 2020-22. The placement brochure/report is also released on the official website of SPJIMR Institute. In this article, we will discuss details about the SPJIMR placement report.
The first step toward getting admission into the SP Jain is taking the Common Admission Test (CAT) exam. Every year over two lakh candidates appear for the CAT exam. Apart from CAT, SP Jain also accepts the GMAT scores. The fees for MBA (PGDM Programme) at SP Jain institute is around Rs. 19 Lakhs which includes tuition fee, basic hostel/ accommodation and Global Fast Track. It does not include the cost of travel, boarding, lodging, visa, insurance and incidentals for Global Fast Track.
Try checking out the CAT previous year papers to know about the level of questions that appear in the exam. Also, taking a free CAT online mock test will help the candidates in gauging their strengths and weaknesses.
SPJIMR PGDM Placements 2022
This year the entire placements exercise was conducted online using a variety of platforms and protocols to meet the convenience and security needs of the participating companies. Now let us see the key highlights of the latest placement season at SP Jain Institute of Management and Research in detail. Coming to

As you can see the placement key highlights of SPJIMR MBA Placements of the batch 2020-22. As per the latest placement report of SPJIMR for the PDGM program, which is available on the official website of the SPJIMR Mumbai, this year the average package/salary stands at INR 32,06 Lakhs per annum, which has increased to 23% compared to the last year. The median salary came in at INR 30.10 lakhs per annum, with over 59% of the batch securing offers above INR 30 lakhs per annum and over 87% in excess of INR 25 lakhs per annum. Coming to the SPJIMR highest package, it stands at INR 53.16 lakhs per annum with an increase of 14% compared to the last year.
A total number of 238 candidates participated in this placement season along with the participation of 70 companies including 33 first-time recruiters.
SPJIMR Placement Key Highlights
| | |
| --- | --- |
| Key Highlights | Package |
| Highest package(CTC) | 53.16 LPA |
| Average package(CTC) | 32.06 LPA |
| Median package(CTC) | 30.10 LPA |
Sector-wise placements in SPJIMR
| | |
| --- | --- |
| Sector | Placements |
| Consulting | 38.4% |
| IB & PE | 21.1% |
| FMCG | 39.3% |
| E-commerce | 45.2% |
| Information technology | 30% |
Autumns internship Highlights

In this placements season, SPJIMR set a record number of Pre-placement offers, with over 52% of the batch receiving PPOs via autumns internships and corporate with leading companies like Amazon, Accenture Strategy, Boston Consulting Group, Colgate-Palmolive, Hindustan Unilever, Intuit, Procter & Gamble, and Tata Administrative Service among many other companies. Have a look at the sector-wise placements of the PGDM program in SPJIMR.
Prominent Recruiters
A total number of 70 companies have participated in this placement season and the most prominent recruiters include Accenture, Aditya Birla Group, Amazon, American Express, Asian Paints, AstraZeneca, Avendus, Axis Bank, Bain & Company, Bajaj, Barclays, BCG, Byju's, Capgemini, Colgate Palmolive, Dabur, Deloitte, etc among the other companies.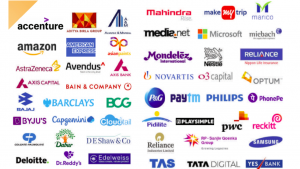 Join our Telegram group of MBA aspirants for quick and regular exam updates