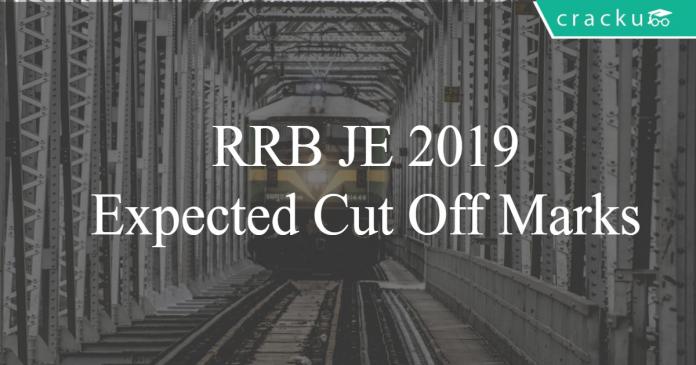 Railway Board conducts RRB JE exam to recruit for the posts Junior Engineer in various departments. This year RRB announced 14,033 vacancies for the posts of Junior Engineer, Chemical & Medical Assistant (CMA), Depot Material Superintendent (DMS) and other posts.
Candidates can apply online region wise for RRB JE 2019 from 2nd Jan 2019 to 31st Jan 2019. RRB JE recruitment is done through
1st stage Computer Based Test
2nd stage Computer Based Test
Medical Examination
Document Verification
Download RRB JE Previous Papers
Candidates are shortlisted for stage 2 CBT based on the merit in stage 1 computer based exam. Computer based tests is objective type. The question paper will be in English and other regional languages.
There will be a negative marking of 1/3 for every wrong answer.
Candidates scoring the minimum cut off marks in stage 1 and stage 2 exam will be called for medical examination.
Candidates need to practise RRB Mocks and Previous papers to crack RRB JE exam easily.
Stage 1 Computer Based Test:
RRB JE stage 1 exams consists of
Mathematics – 30 questions
General Awareness – 15 questions
General Intelligence and Reasoning – 25 questions
General Science – 30 questions
RRB JE Cut Off Marks:
The cut off marks for the exam changes every year depending on the
Number of vacancies
Number of candidates appearing for the exam
The difficulty level of the paper
Marking scheme
RRB JE 2019 Expected Cut Off Marks (Based on Actual Exam):
The exam was easy to moderate. So, we expect the cut off marks to be around as the following.
| | | | | |
| --- | --- | --- | --- | --- |
| Post | UR | SC | ST | OBC |
| RRB JE | 60-70 | 45-55 | 40-50 | 50-60 |
Minimum percentage of marks for eligibility in various categories:
UR – 40%
OBC – 30%
SC – 30%
ST – 25%
Total Vacancies: 13487
Total Applicants: 32 lakhs
Total test takers: Around 20 lakhs
Candidates to be shortlisted for CBT-II: Around 2 lakhs
RRB JE 2016 Cut Off Marks:
RRB Ahmedabad 2016 JE & SSE Cut Off:
| | | | | |
| --- | --- | --- | --- | --- |
| Post | UR | SC | ST | OBC |
| Jr. Engineers | 45.33 | 38.23 | 38.46 | 45.14 |
| Sr. Section Engineer | 45.97 | 37.62 | – | 42.9 |
RRB Chennai 2016 JE & DMS Cut off:
Rly
Post
UR
SC
ST
OBC
ICF
JE – (Works)
47.42
40.34
NV
46.99
ICF
Depot Material Superintendent
69.26
50.30
47.19
NV
SR , ICF
& RDSO
JE – Civil Drawing / Drg
Design/Design Civil B & S
48.94
40.20
37.93
43.51
SR
JE – Electrical / GS
63.35
54.99
48.98
61.29
SR
JE – Electrical / TRD
63.96
50.95
47.16
63.89
SR
JE – Electrical / TRS
60.75
48.99
46.50
59.58
SR
JE – Telecommunication
68.33
NV
NV
NV
NV- No Vacancy
RRB Chennai 2016 SSE Cut off:
| | | | | | |
| --- | --- | --- | --- | --- | --- |
| Rly | Post | UR | SC | ST | OBC |
| SR | SSE / Drg Design (Civil) | 40.75 | 34.73 | 25.36 | 37.22 |
| SR | SSE/Telecommunication | 50.74 | NV | 42.02 | NV |
| SR | SSE/PCO & Shop floor | 47.74 | NV | NV | 47.35 |
| SR | SSE / Mechanical WS | 53.66 | NV | NV | 50.81 |
| SR | SSE/C&W | 48.92 | 38.56 | 42.75 | 47.18 |
| SR | SSE/Signal | 48.72 | 40.21 | NV | 47.77 |
| SR | SSE/Diesel Mechanic | NV | 51.68 | NV | 49.83 |
| SR | SSE/Diesel Electrical | 52.87 | NV | NV | NV |
| SR | SSE/Electrical/GS | 47.77 | NV | NV | NV |
| SR | SSE/Electrical/TRD | 48.17 | 38.69 | 38.57 | 47.44 |
| SR | SSE/Electrical/TRS | NV | 38.52 | 39.68 | 48.42 |
NV- No Vacancy
RRB Bilaspur 2016 JE Cut Off:
| | | | | |
| --- | --- | --- | --- | --- |
| Post | UR | SC | ST | OBC |
| JE- Electrical/DSL | NV | 56.00 | 48.99 | NV |
| JE- Electrical/Electrical General | 60.40 | 51.92 | NV | 59.93 |
| JE- Electrical/TRD | NV | NV | NV | 62.83 |
NV- No  Vacancy
RRB JE 2015 Cut Off Marks:
RRB Banglore 2015 JE Cut Off:
| | | | | |
| --- | --- | --- | --- | --- |
| Post | UR | SC | ST | OBC |
| JE/ Bridge | NV | 35.41 | NV | 43.53 |
| JE/ Signal | 61.38 | 48.30 | 47.18 | 59.74 |
| JE/ Telecom | 62.90 | 51.63 | NV | 58.91 |
| JE/ Permanent Way | 40.12 | 31.68 | 33.90 | 38.16 |
| JE/ Mechanical WS | 54.67 | 45.35 | 40.32 | 53.71 |
| JE/ Mech (DRG, DES & DSTI) | NV | 49.29 | NV | 68.94 |
| JE/ Diesel Mechanical Wing | NV | 47.81 | 43.62 | NV |
| JE/ Diesel Electrical Wing | 77.17 | 48.82 | NV | NV |
| JE/ Carriage & Wagon | 60.70 | 52.99 | 41.64 | 57.64 |
| JE/ Engg (DRG, DES & DSTI) | NV | NV | NV | 42.77 |
Daily practise Tests for RRB JE
100 Free Computer Awareness Tests
RRB Bilaspur 2015 JE Cut Off:
| | | | | |
| --- | --- | --- | --- | --- |
| Post | UR | SC | ST | OBC |
| JE/ P-Way | 58.00 | 44.67 | 45.33 | 54.22 |
| JE/ Works | 75.27 | NV | NV | NV |
| JE/ Bridge | 66.49 | 49.09 | NV | 58.28 |
| JE/ (C&W /Open line) | 65.90 | 62.00 | 54.62 | 69.55 |
| JE/ Telecommunication | 80.84 | NV | NV | NV |
RRB JE 2012 Cut Off Marks:
| | | | | |
| --- | --- | --- | --- | --- |
| Post | UR | SC | ST | OBC |
| JE/ P Way | 49.88 | 41.72 | 44.25 | 44.91 |
| JE/ Works | 47.16 | 43.03 | 32.59 | 42.86 |
| JE/ Bridge | 41.01 | NV | NV | NV |
| JE/ Civil | 45.80 | 35.44 | 30.16 | NV |
| JE/ Mech WS | 55.88 | 39.86 | 44.03 | 47.05 |
| JE/ C & W | 54.82 | 43.68 | 35.14 | 47.07 |
| JE/ Elec Mech DSL | 50.00 | 40.31 | NV | 39.8 |
| JE/ Mech/ DRG | 57.43 | NV | 40.05 | NV |
| JE/ Elec G/ TRD | 55.88 | 45.05 | NV | 49.38 |
| JE/ Elec WS | 51.71 | 34.68 | NV | NV |
| JE/ Elec DRG | NV | NV | NV | 46.82 |
| JE/ Signal | 58.45 | 49.32 | NV | NV |
| JE/ Telecom | 57.08 | 37.39 | NV | 52.48 |
| JE/ S&T DRG | 42.64 | NV | NV | NV |
| DMS | 46.47 | 42.90 | 36.68 | |
| JE/ Track Machine | 57.66 | 43.68 | 36.38 | 54.04 |
RRB JE Important Questions PDF