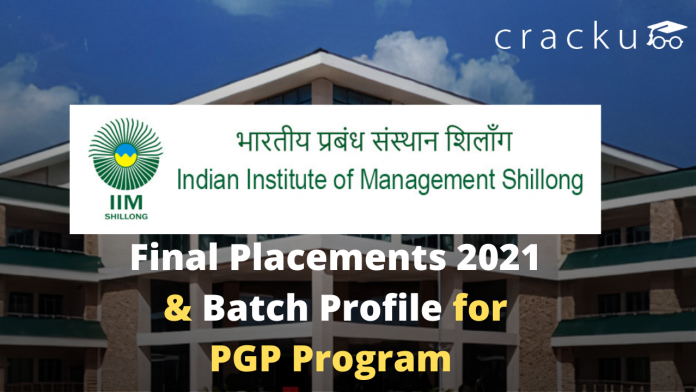 IIM Shillong Final Placements 2021 & Batch profile for PGP Program
The Placement Committee of IIM Shillong takes immense pride in announcing the successful completion of the final placement season for the PGP batch of 2019-21. In this article, we will discuss the IIM Shillong Final placements, including the Average salary package and batch profile in detail.

The first step towards getting admission into the IIMs is taking the Common Admission Test (CAT) exam. Try checking out previous year papers of CAT to know about the level of questions that appear in the exam. Also, taking a free CAT online mock test will help the candidates in gauging their strengths and weaknesses.
Take 3 Free Mock Tests for CAT
Download CAT Verbal Ability PDF
IIM Shillong Final Placements Key Highlights
With the largest batch of 198 students who appeared for the final placement process this year.
The Highest CTC:

32.00 LPA

The Average CTC:

19.17 LPA

The Median CTC:

17.50 LPA



The Top 50% Average CTC: 23.22 LPA


The Top 20%

Average CTC:

26.67

LPA



As you can see, the Highest Salary Package is 32.00 LPA, and the Average Salary Package is 19.17 LPA. The list of prominent recruiters who have participated in this Campus Placements Season includes Amazon, Capgemini, CASHe, EY, ICICI Bank, ICICI Prudential Life Insurance, Indegene, InMobi, JPMorgan Chase & Co, Mahindra & Mahindra, Nomura Investment Bank, Tech Mahindra, Titan, Tres Vista, Optum (UnitedHealth Group), Xiaomi, and Yes Bank.
IIM Shillong gracefully hosted many first-time recruiters including Accolite Digital, Adobe, Amagi Media Labs, Atomberg, Boston Consulting Group, CarWale, CollegeDunia, Feedback Infra, Genpact, Glenmark Pharmaceuticals, Infosys Consulting, iQuanti, Mswipe, MTX Group, MuSigma, Octro, Paytm, RapidOps, SBI Capital Markets, SysCloud, Tata AIA Life Insurance Co., Thoucentric, Trafigura, Unicommerce, William O'Neil India, Zinnov, ZS Associates and many more.
Download Free MBA Preparation App.
Sector-Wise Placement Statistics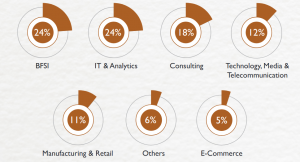 Domain Wise Offers
Consulting

& Strategy – 27%


Sales &

Marketing – 25%

Finance – 19%


General

Management – 11%


IT &

Analytics – 10%


Human

Resources &

Operations – 8%

Enroll for CAT 2022 Complete Course
Download CAT 2021 Syllabus PDF
IIM Shillong Final Placements 2021 PGP Batch Profile
The total number of students in this batch in this 2-year full-time MBA for PGP Batch is 198. And their educational background is given below
Education Background
Engineering – 57%

Commerce & Finance – 16%

Science – 9%

Arts – 9%


Others – 9%
Gender Ratio
The Gender ratio of the latest batch:
Work Experience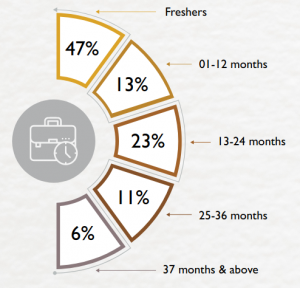 As I mentioned before, the Batch size of this 2021 MBA Batch for the PGP program in IIM Shillong is 198. Only 6% of students have work experience of more than 37 months. And the freshers are 47%. This is the detailed batch profile of the IIM Shillong 2021 MBA Batch for the PGP Program.
Also, check out the Placement reports of Top IIMs and MBA colleges:
IIM Nagpur  Latest Placements and batch profile.
IIM Kashipur Latest Placements and batch profile.
SPJIMR Mumbai Latest Placements and batch profile.
IIM Bodh Gaya Latest Placements and batch profile.
Candidates can Join our Telegram group of MBA aspirants for quick and regular exam updates.