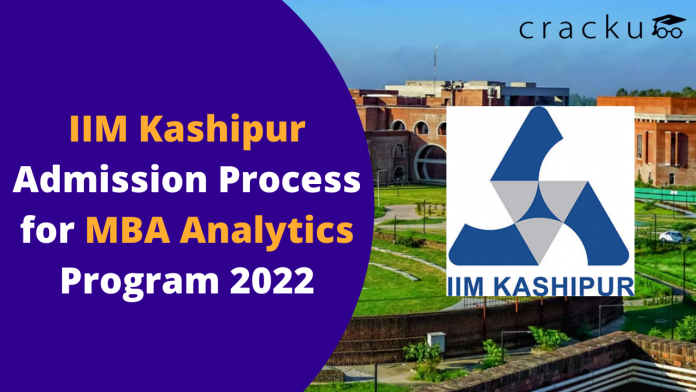 IIM Kashipur MBA Analytics Admission process 2022
IIM Kashipur began the 10th year of its journey in 2021, and also it coincides with the launch of Masters in Business Administration (Analytics). The MBA (Analytics) program at IIM Kashipur is a two-year full-time residential programme and aims to prepare managers and future leaders in the field of data analytics. This program aims to produce future-ready business leaders with good managerial and analytical skills coupled with impeccable communication skills to define business and social challenges, use analytical tools and techniques to identify patterns, gain insights, develop business strategies and make superior management decisions.
Take 3 Free Mock Tests for CAT
MBA Analytics Admission Process in IIM Kashipur
The Admission process in IIM Kashipur for MBA Analytics will be done as per the admission policy for MBA(Analytics), which is available on the official website of IIM Kashipur.
Eligibility Criteria
In order to be eligible to apply for MBA (Analytics) programme, a candidate must possess:
A full-time Bachelor's degree in any discipline or an equivalent academic pursuit (i.e.,
10+2+3), with a minimum of 50% marks or equivalent CGPA (47% for NC-OBC, 45% marks for SC/ST/DAP)
Any of the following qualifying exam scores are eligible for this program:
Valid CAT Score

GMAT / GRE score 
Subscribe To GMAT Preparation Channel
Admission Process
The admission process shall comprise of the following stages.
Stage 1: Candidates will have to submit an online application with all the required documents in the form of attachments and pay the application fee (Rs 500/- for candidates belonging to NC-OBC/SC/ST/DAP/EWS categories, and Rs 1000/- for others).
Stage 2: Candidates will be shortlisted based on their Qualifying Exam Score (CAT-2019/ GMAT/ GRE), educational background (Marks obtained in X, XII and Graduation Degree), work experience, discipline diversity, and gender diversity.
IIM Kashipur MBA (Analytics) Shortlisting Criteria and Weights: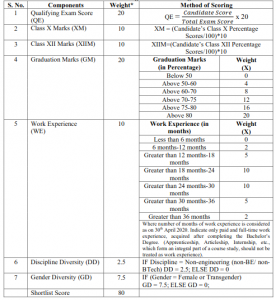 Stage 3:
Shortlisted candidates will have to appear for a Personal Interview. The interview will be conducted at IIM Kashipur campus in Kashipur, and if required, in New Delhi and Bangalore. However, the Institute reserves the right to add/cancel any center for the conduct of Personal Interviews.
Download Free MBA Preparation App.
Selection
Offers will be sent after the announcement of the final merit list. Announcement of the final merit list under any category shall be strictly in order of merit based on the total score. You can check out this calculation in the below table.

S.No.
Components
Weights
1
Shortlist Score
80
2
Personal Interview Score
20
Total Score
100
Fee Structure for MBA Analytics:
IIM Kashipur has recently coincided with the launch of Masters in Business Administration (Analytics) in the year 2021, which took place recently. So, the MBA Analytics fee structure is under revision.
Should You Apply for IIM Kashipur MBA Analytics Program?
The two-year MBA (Analytics) programme is a full-time residential programme. The first year is spread into three terms encompassing core courses that explain the fundamental concepts of management and analytics across the functional areas. The students need to do the summer internship, which is required to work on an industry project with an organization for a period of 7-10 weeks in the first year of this MBA Analytics Program. All the courses in the first year are mandatory courses. The first-year courses will help you to improve your managerial and analytical skills with the accomplishment of your summer internship program.
The second year of MBA Analytics is spread over with another three terms. The coursework comprises mandatory analytics courses and dissertation courses along with elective courses. The dissertation component spread over three terms of the second year, and this course will help the students to find their areas of interest and apply their knowledge in defining and solving a research problem. This course will equip students with research capability, which is one of the requirements in the business arena. A proper amalgamation of knowledge, practicality and skill development is the need of the hour, and the curriculum is designed to mould students into leaders in data science and analytics.
Enroll for CAT 2022 Complete Course
Candidates can Join our Telegram group of MBA aspirants for quick and regular exam updates.