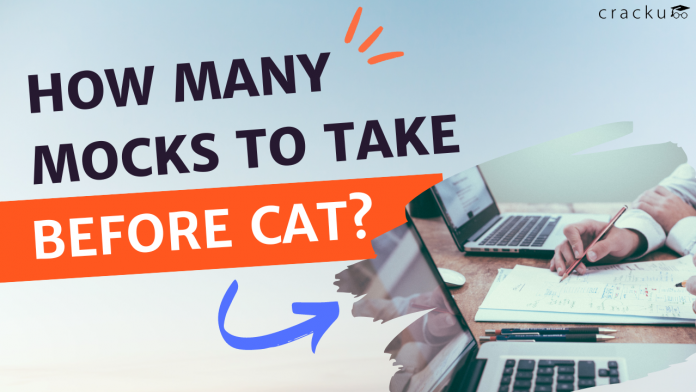 How Many Mocks Are Enough To Take Before CAT Exam by Aspirant?
The Common Admission Test (CAT) is scheduled to take place on 27th November 2022. This leaves the aspirants roughly two months to ace this exam. Having said that, candidates who have registered for the exam but have not yet started with their preparation can also achieve a high percentile in these two months with a perfect preparation plan for CAT. As the CAT approaches, there is a rise of a common question for many of the CAT aspirants how many mocks are enough to give before the CAT exam? In this article, we will provide you with a month-wise schedule for a number of mocks to be taken in these last few days.
The Number Of Mocks To Take Before CAT
One of the most common mistakes that aspirants make during the CAT preparation is postponing the mocks until they complete the syllabus. The more the number of mocks you give, the better it is for you. As we know, the basics play a crucial role in CAT preparation. The students who started their preparation long back have already completed their basics. They must focus on giving mocks and analyzing them thoroughly, as they can give 3 to 4 mocks per week. Those who have just started their preparation can take less number of mocks and analyse them. Simultaneously, they must strengthen their basics by practising the topics they are not good at.
Number of Mocks Per Month (For the Aspirants Who Started Preparation from June)
As mentioned, the no. of mocks also depends on when you started taking mocks. People who are well versed with all the basics and who started mocks in June can take mocks as per the given below schedule.
| | |
| --- | --- |
| Month | Number of mocks |
| June | 1 mock/2 weeks |
| July | 1 mock/2 weeks |
| August | 1 mock/week |
| September | 2 mock/week |
| October | 2-3 mocks/week |
| November | 2-3 mocks/week |
Number of Mocks Per Month (For the Aspirants Who Started Preparation from September)
Aspirants who have started a bit late from September should target 15-20 mocks in these last few days. But ensure that you analyse the mock thoroughly after you've taken a mock, and figure out ways to improve your scores and strengthen your basics. Also, don't try to take a mock test every day. In the last week before the exam, it is not recommended to take too many mocks. Try to take 1-2 mocks. One should not get drained by giving too many mocks just before the exam. One can follow the schedule below that represents the number of mocks to take before CAT for the aspirants who started late in September.
| | |
| --- | --- |
| Month | Number of mocks |
| October | 1-2 mocks/week |
| November | 2-3 mocks/week |
Note: As there are only a few days left in this month, it is better to use this period to strengthen your fundamentals.
You are also advised to go through Previous CAT Papers to get acquainted with the type of questions asked in the examination.
Also, keep in mind that taking the mocks in an environment similar to that of CAT goes a long way in ensuring success in the CAT examination. If you are giving your first mock, you might even find it difficult to sit through the entire mock. It is advised to experiment on mocks by applying different mock-taking strategies and finding the best CAT mock strategy that suits you. Check out the mock-taking strategy below that helps you ace the CAT exam.
CAT Mock Taking Strategy
Strategy Differs from person to person. You would understand your strengths and weaknesses upon analysis. Also, remember that the exam is unpredictable, and one must have a proper strategy to ace the CAT exam. Be flexible with your strategy, i.e., don't have rigid targets with respect to the attempts. Don't go with preset targets for the attempts. Ensure you solve all easy questions. Also, have good accuracy; with 40 minutes per section, every mistake will cost you more.
Mock Strategy for CAT – VARC
When it comes to the mock strategy for the VARC section of CAT, it is very important to decide what to attempt first, either Reading comprehension (RC) or Verbal Ability (VA). And if you start with the RCs, then make sure to know which RC questions you are going to attempt and try to answer them. Then proceed with the verbal ability questions. This is the most used strategy and also works for many aspirants. One can also start with Verbal ability questions, but the mock-taking strategy for this section varies from person to person. So, it is advised to take a good number of mocks, experiment by applying various strategies, and decide which strategy works for you.
Mock Strategy for CAT – DILR
As we all know, the DILR is one of the hard sections in the CAT exam. There is no particular strategy for this section. The only key is to attempt all the question which feels more familiar, as many aspirants cannot solve all the questions in this section. So, it is better to read and understand all the questions and make sure to solve the question which is familiar.
Mock Strategy for CAT – Quant
The quantitative aptitude section is among the most scoring sections, as many of the aspirants target to score as high to get a good percentile. There are many mock-taking strategies to ace this section. Among those, the rounds approach is one of the most commonly used strategies and also works for many CAT aspirants in this section.
In this mock-taking strategy, one can proceed with the first round by solving all the easy questions by skipping moderate-difficulty questions, which are to be attempted for the second round. After completing all the easy questions, one can proceed with the second round to attempt moderate-type questions and skip the hard questions for the third round. And finally, there will be some time and spend the rest of the time solving the remaining problems.
One can take the best free mocks for CAT 2022 and implement your own mock-taking strategies.
Join our Telegram group of MBA aspirants for quick and regular exam updates