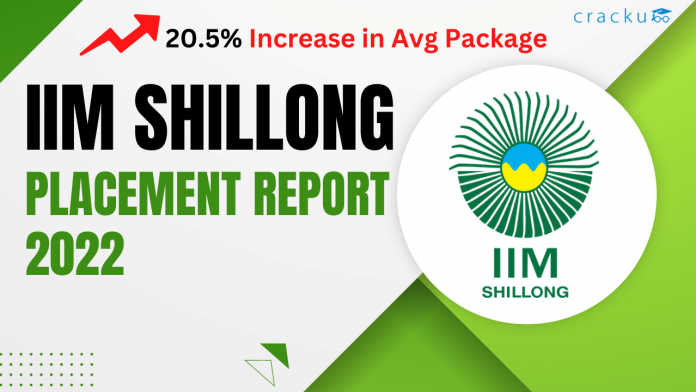 IIM Shillong MBA placements 2022: Average Package Increased To 20.5%
Indian Institute of Management (IIM) Shillong is one of the most prestigious b-schools in India after old IIMs such as Ahmedabad, Bangalore, Calcutta, etc. As per the NIRF 2022 rankings, IIM Shillong ranking position is in 26th rank. The institute has released its final MBA placement report on its official website along with the batch profile of PGP(2020-2022). This year the institute witnessed a 20.5% increase in the average package as compared to the last year. In this article, we will provide you with all the details of IIM Shillong MBA Placements 2022 and the batch profile in detail.
Enrol to CAT 2023 Online Course
IIM Shillong Placements 2022
The Placement Committee of IIM Shillong takes immense pride in announcing the successful conduction of the final placement season for the PGP batch of 2020-22. The stellar performance of the PGP participants stands as testimony to the rapid progress made by IIM Shillong and has once again established IIM Shillong as the preferred choice for recruiters, said Prof. Rohit Joshi, Chairperson of IIM Shillong Placement Committee.
IIM Shillong Placement 2022 Key Highlights: Highest, Average And The Median Package
As mentioned earlier, this year, IIM Shillong witnessed a decent rise of 20.5% increase in the average package, which is 23.10 Lakhs per annum. As per the information on the official website, the IIM Shillong fees including hostel around 16 Lakhs for the full-time 2-year PGP programme. If you can compare IIM Shillong fees and Placements, one can understand that the return on investment is pretty good, which is 1.44%. And also the other placement key highlights are shown below.
| | |
| --- | --- |
| IIM Shillong | Packages |
| Highest Package | INR 55.22 LPA |
| Average Package | INR 23.10 LPA |
| Median Package | INR 22.28 LPA |
| Average CTC of Top 20% | INR 31.31 LPA |
| Average CTC of Top 50% | INR 26.98 LPA |
The highest package in IIM Shillong placement 2022 has increased by 72.56%, which is the highest salary of Rs.55.22 LPA from Rs.32 LPA last year. The Median Salary has gone up to Rs.22.28 LPA in Final Placements 2022 from Rs. 17.50 LPA in the year 2021. One can also check out the given below demographics which are available in the official IIM Shillong MBA placement report 2022.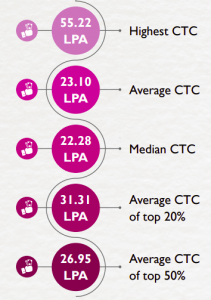 IIM Shillong Batch Profile 2022 (Batch Size: 250)
As per the Official IIM Shillong Batch profile 2022, the batch consists of 250 students. Among those, 75% of the students are male, and 25% of the students are female. The students in this batch are having various educational backgrounds, such as Engineering, Commerce & Finance, Arts, Management and Science. The percentages of students from various backgrounds in this latest batch are shown below.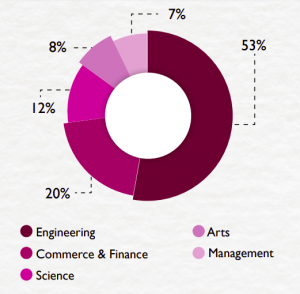 Work Experience Statistics of the batch
In this latest batch of PGP 2020-22 at IIM Shillong, there are many students who have work experience in various sectors with a decent number of months of work experience. Have a look at the below demographics representing the duration of work experience of the batch in detail.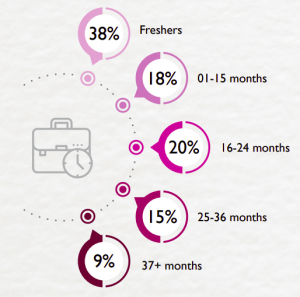 Enrol to CAT 2023 Online Course
Enroll for TISSNET Crash Course
IIM Shillong Summer Placements 2023
The Placement Committee of IIM Shillong has successfully concluded the summer placement season for the PGP batch of 2021- 23. As per the official summer placement report of IIM Shillong for the PGP batch. The following are the summer placement key highlights.
| | |
| --- | --- |
| IIM Shillong | Stipend |
| Highest Stipend | INR 3.50 Lakhs |
| Average Stipend | INR 1.73 Lakhs |
| Average Stipend of Top 10% | INR 3.20 Lakhs |
| Average Stipend of Top 20% | INR 2.99 Lakhs |
| Average Stipend of Top 50% | INR 2.51 Lakhs |
Check out the below demographic of the placement key highlights from the official IIM Shillong summer placement report 2023 shown below.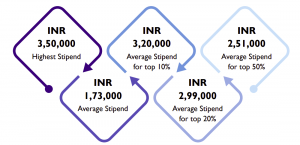 IIM Shillong Placement Companies
The placement season saw participation from a total of 73 recruiters in various domains such as Consulting & Strategy, Finance, General Management, Human Resources & Operations, IT & Analytics, and Sales & Marketing.
IIM Shillong conducted the placement season through the participation of several prominent recruiters, including Aditya Birla Capital, Amagi, Amazon, Bain & Company, Capgemini, Cognizant, D.E. Shaw, Deloitte USI, EY, Goldman Sachs, Tata AIA Life Insurance Co., Tata Steel, Titan, Trafigura, TresVista, Xiaomi and others who reaffirmed their faith in the institute.
IIM Shillong gracefully hosted many first-time recruiters, including AB InBev, Aditya Birla Fashion & Retail Ltd., ADP Pvt. Ltd., Affinity Global, Allcargo Logistics, Axis Bank, Baker Hughes, Bosch, Cipla, CRISIL, Dalmia Bharat Group, Easyrewardz, PwC, Reliance Industries Limited, Reliance Jio Platforms, Schindler India, Sea6 Energy, Standard Chartered Bank, State Street Corporation, Tata AIG General Insurance, Tiger Analytics, Udaan, Virtusa, WNS Global and many more.
DO JOIN OUR TELEGRAM GROUP FOR MBA ASPIRANTS FOR REGULAR EXAMS AND MBA COLLEGE UPDATES. WE WILL UPDATE YOU AS SOON AS THE FORMS ARE RELEASED.