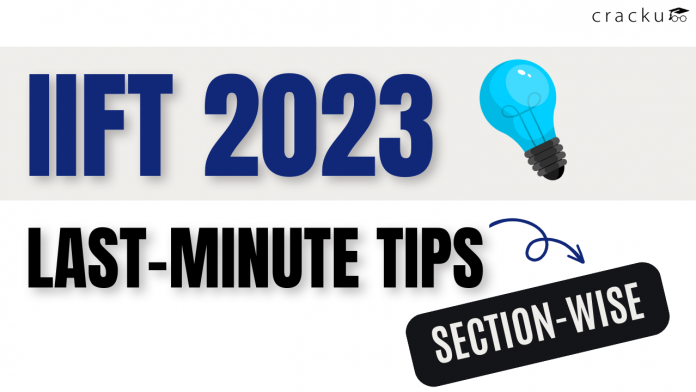 IIFT 2023 Last-Minute Tips (Section-wise) & Exam Tips
Indian Institute of Foreign Trade is considered one of the top b-schools in our country. And it is consistently ranked among the top 15 b-schools in India. As we all know, the IIFT exam is scheduled for Dec 18th, and many aspirants are looking for some last-minute tips to give their best performance in the exam. IIFT is a bit different from CAT. Though the concepts tested are the same, the two tests demand entirely different approaches to crack them. IIFT, unlike CAT, is a speed-based test. Let us see how to crack IIFT 2023 by leveraging the preparation one has done so far.
Take a look at the IIFT previous year papers to know about the pattern of the exam. Though the number of questions has varied over the years, the essence of the exam has more or less remained the same. Take free IIFT mock test to fine tune your test-taking strategies to suit this exam.
Take 5 Mock Test for IIFT 2023
IIFT 2023 Last-minute Tips (Section-wise)
Before that, let us have a look at the IIFT exam pattern 2023 in detail.
| | | |
| --- | --- | --- |
| Section | Total Questions | Mark awarded for each correct answer |
| Verbal Ability & Reading Comprehension | 35 | 3 |
| Quantitative Analysis | 25 | 3 |
| Data Interpretation & Logical Reasoning | 30 | 3 |
| General Awareness (GK) | 20 | 1.5 |
| Total | 110 | 300 |
IIFT 2023 Exam Tips: VARC section
If we look at the RCs, Which have lengthy passages followed by factual questions, remember that factual questions are not inference-based. It is advised to start by reading the questions first and then read the RC because a lot of information in the passage is redundant, so when you read the question, you will know where you should focus.
And when it comes to verbal ability, we know there are two parts. This is entirely different from other MBA entrance exams. Verbal ability focus on vocab and grammar. When it comes to vocab, the questions are asked based on the origin of words, But you need to improve your vocab in this limited time magically. So what you should do in these last few days is to quickly revise the GRE word list and roots of the words to improve your vocab.
When it comes to grammar, reading helps here. If you are a regular reader, you read quality content daily. If we talk about the attempt strategy, firstly target the verbal ability question, which consumes less time, and then move on to the RCs.
IIFT 2023 Exam Tips: DILR section
When it comes to the DILR Section, the DI question in IIFT is more straightforward but mostly calculation intensive, which takes a lot of time, but is easier than CAT DI questions. So it is advised to revise your speed matrics, especially ratios, percentages and approximations. And the cut-offs for this section are also low. So try to answer this section's eight questions with 100 per cent accuracy. Of course, the cut-off may vary based on the difficulty level of the paper. But it is safe to attempt eight questions with 100 per cent accuracy.
IIFT 2023 Exam Tips: Quants section
Regarding the quant section, the difficulty level of this section is similar to the CAT. The major topics tested in this section are arithmetic and geometry, which are mostly asked in almost 50 per cent of the section. Also, it is advised to quickly revise some other topics such as Probability, clocks, algebra and so on. And mainly, if you are weak in quant, it is better to focus more on arithmetic and geometry. And when it comes to the number of attempts, it is safe to attempt six questions with 100 per cent accuracy.
IIFT 2023 Exam Tips: General Awareness
general awareness section, as we know, is a make-or-break section. We know the questions in this section asked from static gk, current affairs, and some related business. Make sure you revise all the major static gk questions and the current affairs in the last six months. We provide a playlist for current affairs every month on our Youtube Channel. You can check them out. And also revise all the business-related events that happened in the past few months. For example, look at the top companies' current CEOs.
You can also download the Static GK PDF which we provide. And if we talk about the attempt strategy, it is safe to attempt 6 to 7 questions.
How to crack IIFT 2023?
The exam does not have sectional time limits, but there are sectional cut-offs. Therefore, attempt enough in all the sections to clear the cut-offs. Then return to your section of choice and do as many questions as possible. Mark the OMR sheet now and then. Do not keep postponing the task and miss out on marking some questions.
While allocating time for various questions, take the time for marking into consideration too. Also, do not mark an option you are unsure of. Unlike Computer-based tests, you do not have the option of taking your choice back in the future. Therefore, do not mark an option and regret it. Only mark questions that you are completely confident of getting right.
Though IIFT has not mentioned any sub-sectional cut-offs, an attempt to at least six questions from every subsection to be on the safer side, also, do not take GK lightly and miss out on the call. Make sure you clear the cut-off in the GK section.
Join our Telegram group of MBA aspirants for quick and regular exam updates
Download Static GK PDFs for MBA exams