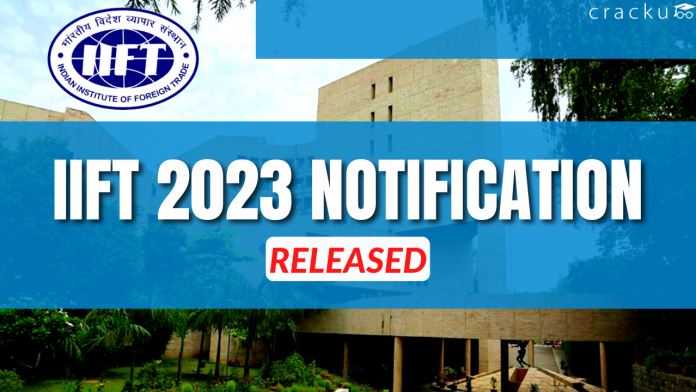 IIFT 2023 Notification – Registration Last Date, Exam Date, Preparation Plan, Exam Pattern and Syllabus
The IIFT (Indian Institute of Foreign Trade) exam notification was released in the major newspaper(s) by the NTA (National Testing Agency). NTA was established by the Ministry of Education, Govt. of India. IIFT is one of the Top institutions in India for MBA, which has a General MBA program focusing on International Business. The registration process for IIFT 2023 started on September 30, 2022, and it ends on November 14, 2022. Aspirants are advised to get registered before the deadline, and the registration is Rs. 2500. The IIFT 2023 exam will be conducted by National Testing Agency (NTA) which will be conducted on December 18, 2022(Sunday), and the exam duration is 2 hours.
Currently, the Campuses are in IIFT Delhi, IIFT Kolkata, and IIFT Kakinada.
Download IIFT Notification PDF
Download IIFT 2023 Official Notification PDF
5 IIFT mocks for just Rs. 299 – Enroll here
More details are yet to be out on https://iift.nta.nic.in/
IIFT will be an online computer-based test.
IIFT 2023 Important Dates:
The IIFT 2023 exam will be conducted on
Event
Important Dates
IIFT 2023 Registration
September 30, 2022
IIFT 2023 Registration Last Date
November 14, 2022
(Up to 05:00 PM)
For Foreign Nationals, the application date
January 15, 2023, to March 15, 2023
Admit Card Download
To be announced
IIFT 2023 Exam Date
December 18, 2022(Sunday)
IIFT 2023 Answer Key
To be announced
IIFT 2023 Result Date
To be announced
Eligibility Criteria for IIFT 2023
1) There is no age limit to appear for IIFT
2) The applicant must hold a recognized Bachelor's Degree (with at least 50% marks for general and 45% for SC/ST/PWD) or equivalent with a minimum duration of 3 years.
3) Students in their final year of graduation can also apply for the IIFT exam.
Download IIFT Previous Papers PDF
Take IIFT 2023 Mock Tests Here
IIFT 2023 Registration Process
As mentioned earlier, the registration for IIFT 2023 started on September 30, 2022, the candidates are advised to get registered as soon as possible before the deadline. In detail, look at the step-wise registration process for IIFT 2023.
Apply for Online Registration
Fill out all the required fields in the IIFT 2023 application form
Upload Scanned Photo & Signature in the IIFT Exam Application Form
Make the IIFT 2023 exam fee payment.
Finally, take the printout of the receipt.
IIFT 2023 Exam Pattern
IIFT 2023 Based on last year: IIFT 2023 exam will have multiple choice questions. The exam duration is 2 hours (120 minutes). The below exam pattern is based on IIFT 2022:
Section name
No. of questions
Marks per Question
Total marks
Negative Marks
Quantitative Ability  (QA)
25
3
75
-1
Logical Reasoning (LR) & Data Interpretation (DI)
30
3
90
-1
Verbal Ability (VA)
19
3
57
-1
Reading Comprehension (RC)
16
3
48
-1
General Knowledge & Awareness
20
1.5
30
-0.5
Total
110
300
Download Free IIFT Previous Papers (Android App)
IIFT 2023 Syllabus:
IIFT exam consists of the questions from the following sections
Verbal Ability
English Grammar
Logical reasoning
Reading Comprehension
English Vocabulary
Quantitative Aptitude
Data Interpretation
General Knowledge
Current Affairs
Cracku will provide IIFT 2023 syllabus PDF. Please join our Telegram group to get updates.
How to prepare for IIFT 2023 Exam
The sections that are tested in IIFT are Verbal Ability (English grammar, Vocabulary), Reading Comprehension, Logical reasoning and data interpretation, Quantitative analysis, and General Knowledge. The duration of the IIFT exam will be of 2 hours.
The basic concepts tested by the exam is the same as that of CAT. However, the style of the questions is entirely different in IIFT. Apart from the topics tested in CAT, one must prepare for grammar and general knowledge sections. Let us have a look at the differences between CAT and IIFT exams which will give you a better understanding of the topics to prepare well for IIFT exam.
Take IIFT mock tests here
Difference between CAT and IIFT
Verbal Ability and Reading Comprehension: Reading comprehension questions are often verbose and factual in nature. Though CAT has stopped asking questions on grammar, IIFT places a huge emphasis on the section. Therefore, aspirants must allocate at least 2 hours every week to revise questions on Verbal Ability. Vocabulary questions also formed a part of the section. So, under the Verbal section, you'll also be asked about Vocab, Idioms, grammatical errors, etc.

Since the RC passages are longer, aspirants should try to improve their reading speed. Skimming through the passage and looking at the questions first can be of some help in the IIFT exam.
The Data Interpretation section: The DI questions are often calculation intensive. Unlike CAT, most of the aspirants can easily crack the logic behind the sets. The speed of calculation will be the major differentiating factor in this section. Also, aspirants should be extremely careful while rounding off the digits as the options are generally close to each other.
Logical Reasoning: LR section is easier as compared to CAT. Therefore, aspirants must try to maximize their scores in this section, by solving more questions accurately.
Quants section: The level of difficulty of the quants section is almost similar to that of CAT. Preparing for the quants section of CAT will be sufficient to do well in this section. Be thorough with the fundamentals of the key concepts (such as Algebra, Arithmetic, Geometry, Modern math etc).
Now, let us talk about the GK Section in detail.
How to prepare for the IIFT GK section:
Preparing for the General Awareness section can be an uphill task if you do not know where to begin with. As the questions can be from any topic under the Sun, aspirants must be extremely selective while preparing. Avoid preparing topics that do not promise good returns.
In one of the previous papers, the sectional cut off of this section was less than a mark. The low cut-offs explain the difficulty level of the section. Just answering 6 or 7 questions right can help one to clear the cut-off. Though the total weightage this section carries is less, one must bear in mind that they must clear the cut off to be considered for further processes.
Doing well in the GK section can help aspirants balance time in the exam. Also, the scope for error in this section is abysmal. Therefore, a well-prepared aspirant can score as high as 5 or 6 marks within 10 minutes. Also, the time saved can be put to better use by attempting questions from other sections. Take the IIFT past year papers and check out the GK section. Check how comfortable you are with the type of questions that appear. Also, take free GK tests to check your preparation level from time to time.
Major topics tested are Current affairs, Business affairs related, and Static GK questions. IIFT has a proclivity for asking questions related to business. Reading a business newspaper daily will easily help the aspirants to keep their heads above water.

There were some questions in which a passage was given and the candidates were asked to find out the statements that were factually incorrect. Such questions require extensive knowledge not just of facts, but also the why's and how's of the happenings. Keeping abreast of the latest happenings will help not only in the exam but also in the GD and PI process that follows.
We can broadly classify the GK section into 2 portions: The Static GK and the Dynamic GK. The weightage of both the parts in the section is almost similar. Therefore, aspirants must prepare for both the sections to avoid any unpleasant surprises.
One can expect some questions from Countries, Capitals and Currencies. Headquarters of International organizations is another important topic from which questions appear. Learn the venues that have been selected to host the Olympics, Commonwealth Games, FIFA world cup and ICC world cup, etc.
Anything relating to India's recent position in rankings is very important. Try to know the ranking of India in various surveys (like the ease of doing business, etc). Revise the recent happenings (in the past one year). Read about the persons in news recently. Also, read about the events that India hosted in the past 6 months.
The candidates should have a specific approach for each section. In the verbal section, for instance, there are different types of questions as mentioned above. As these are not present in the CAT, candidates must spend around 2 hours to practise such topics every day.
An important source of practice is the Previous Year Papers. Practising from previous papers will give you a good idea of the type of questions that are asked in the exam. You can also start your preparation by taking a previous year paper to gauge your strengths and weaknesses and make a preparation plan accordingly. It is also imperative to take more Mock Tests and perfect the test-taking strategy.  Hence, taking more mocks should be an important part of the IIFT Preparation Plan.
IIFT 2023 Test Series:
Taking the mocks that mimic the exam pattern, syllabus, interface, and difficulty level are very important for IIFT exam preparation.